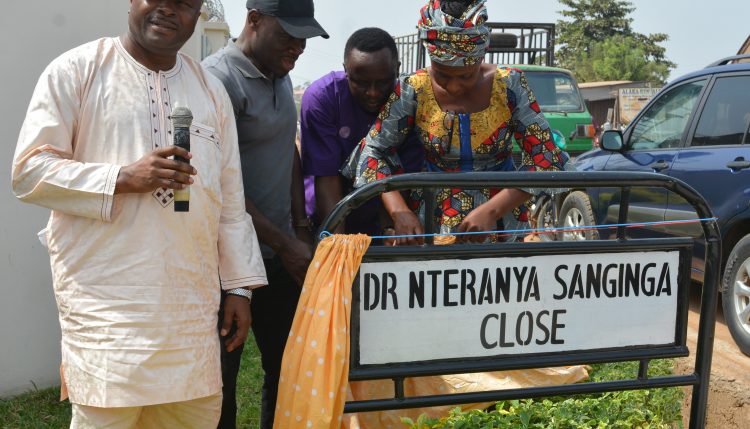 Akinyele Local Government officials honor DG Sanginga
IITA Director General, Dr Nteranya Sanginga, was honored by the Akinyele Local Government Authority, Ibadan, by naming a street after him on 12 January at Akingbile for his dedication and selfless sacrifice in transforming and improving the livelihoods of people within the neighboring community and sub-Saharan Africa at large.
The street, formerly named Road H Oluana, Akingbile, is now called Dr Nteranya Sanginga Close, Akingbile. The ceremony was attended by the Baale, chiefs, and representatives of the street naming committee from the local government, as well as IITA Directors, management staff, and friends and well-wishers of IITA.
During the official unveiling of the street sign, DG Sanginga expressed appreciation to the officials and all those who came to witness the ceremony. "Even though I have a street named after me in IITA, I feel privileged to have another named after me outside IITA, considering the fact that I am a foreigner. Because of the way I am treated in Nigeria, I see it as a home away from home; and if I had my way, I would like to have a resident permit to enable me to visit any time. Due to your high level of ambition, I believe some of you will be named after a street in Bukavu, in my home country of DR Congo. Thank you all for recognizing my effort in this special way!"
Speaking on behalf of the street naming committee, Florence Adeleke explained how honored they felt to have a street named after the Director General of a reputable and world-class international organization. "From today, we adopt you as one of us, not minding your country of origin. Even after you have left Ibadan, your footprints cannot be erased because you have touched so many lives, directly or indirectly, within and across Africa through your transformation initiative. We are grateful for your humanitarian work."
The ceremony came to an end with a vote of thanks from Iheanacho Okike, IITA Cassava peel specialist, saying to whom honor is due, honor is given. "I especially congratulate you because this is as a result of your outstanding and excellent performance in improving livelihoods."