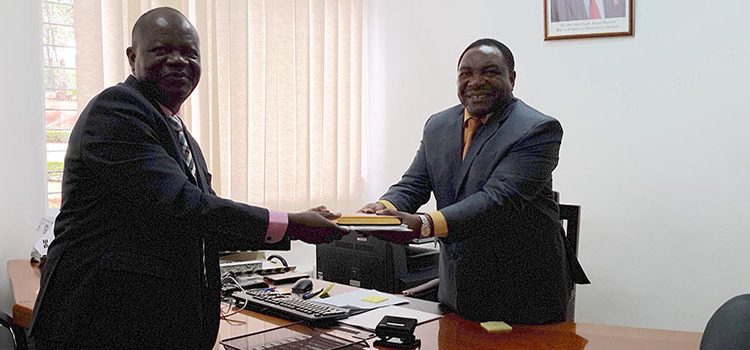 IITA and Nelson Mandela Africa Institution of Science and Technology to strengthen relationship
IITA and Nelson Mandela Africa Institution for Science and Technology (NM-AIST) have agreed to strengthen their collaboration in efforts to build Africa's capacity for science and technology. The agreement was made during a courtesy visit to the University's Vice Chancellor, Emmanuel Luoga, at its campus in Arusha, Tanzania, by a delegation from IITA led by the Director for Eastern Africa hub, Victor Manyong, on 7 January.
The two leaders, among others, agreed on the need to revise and renew the current memo of understanding (MOU) between the two institutions, which is based on a collaboration in a banana research project. The University currently houses IITA's banana research team and provides fields for the crop's breeding trials.
IITA further refurbished two laboratories at the University–tissue culture and plant pathology, which are being used by both IITA staff and students of the University. In the last two years, 64 students have been trained in the facilities.
The VC praised the IITA banana breeding work, which among others, was geared towards breeding banana varieties resistant to Fusarium wilt, a deadly disease threatening banana production in the country and region, and assured IITA of the university's continued support in these efforts.
For his part, Manyong informed the meeting that IITA had indeed enjoyed very good collaboration with the university on the banana project for the last five years. He, however, noted it was time to strengthen the relationship with NM-AIST beyond the banana breeding project and update the MoU to reflect this.
He further conveyed greetings from IITA Director General Nteranya Sanginga whom he said was very happy with the partnership.
Accompanying Manyong from IITA at the meeting were Regina Kapinga, Head of Advocacy and Resource Mobilization; Allan Brown, Banana Breeder; Eveline Odiambo, Head of Finance and Admin, EA Hub; Scola Ponera, Project Assistant; and Hassan Mduma, Research Supervisor.
From the NM-AIST side were Charles Lugomela, Deputy VC for Planning, Finance and Administration; Gabriel Shirima, Acting Dean for the School of Life Sciences and Bio-Engineering (LiSBE)); P. Ndakidemi, Karoli N. Njau, and Akida Meya.
Kapinga commended NM-AIST for its tremendous growth over the years with the vision of bringing students from all over Africa.
She therefore suggested that since IITA works all over Africa, the new MoU should go beyond Tanzania. Ndakidemi added that the two institutions can join hands to develop joint research proposals to carry out projects to benefit the farmers and agriculture in Africa and act as training ground for NM-AIST students.
A task team was formed with members from both parties to come up with the draft agreement for the new MoU. The team consists of Meya and the DVC's office for NM-AIST, and Brown and Odiambo for IITA.