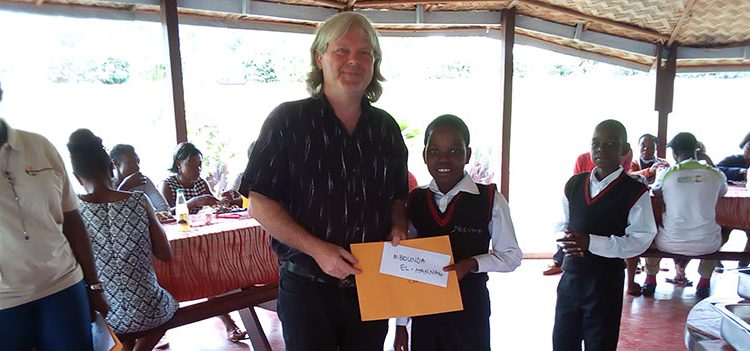 IITA-Cameroon Women's Group holds scholarship award ceremony
On 19 December, to mark the 2018 edition of the IITA Women`s Group Award Scholarship program, 10-year-old Mbounda El-Hannah, a Junior Secondary School student, and Mbounda-Mbuh Samuel, 12-year-old Senior Secondary School student, received awards worth US$450 each. The ceremony, which took place at the buckaroo in the IITA Campus in Yaoundé, was presided over by Masso Cargele, the Country Representative. In his remarks, Cargele congratulated the awardees on their achievement and dedication that qualified them for the award. He also praised the IITA Women's Group (WG) for their humanitarian service, which he said is laudable and worthy of emulation.
Present at the event was the Central African Hub Director, Bernard Vanlauwe, who coincidentally was on a working visit to Cameroon. He congratulated the beneficiaries for their excellent performance and bilingualism. He also enjoined them to continue working hard in school so as to win other awards in future. Vanlauwe expressed gratitude to the IITA WG for their initiative and challenged the group to help organize similar groups in the country.
In her presentation, Molute Lilian Bishi, the WG focal person, said, "We are very happy for the initiative of this program. The children wrote the exams just like last year under the same conditions with the other stations. Next year we are hoping to have more candidates. The recommendations from the Hub Director, Dr Vanlauwe, is an encouragement to us; we are planning to create a chapter of the WG here in Cameroon through which we can also get sister organizations involved thereby enlarging our scope."
Simila Boubakari, IITA Cameroon station administrator, said, "I have seen the emotion on the faces of the scholarship recipients Mbounda El-Hannah and Mbounda-Mbuh Samuel, while receiving their awards. I think that this initiative of the IITA WG has served its purpose, to inspire those young children to work harder and embrace a career in science. Congratulations to their parents and to Bishi Lilian for her commitment to make this a success."
Mbounda Emerencia, the mother of the awardees and a consultant in IITA Cameroon, expressed her gratitude to the WG for the wonderful initiative, adding that it will help to encourage and challenge her children to work even harder in school.