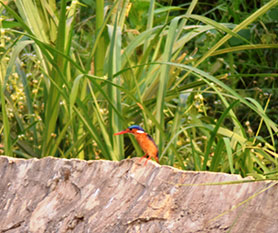 1
IITA Forest Unit hosts the first Ibadan Bird Club Meeting in 2019
The first meeting of the Ibadan Bird Club (IBC) in 2019 was held at IITA Ibadan on 26 January. The event attracted 36 members including three children known as the IBC Juniors and nine beginners.
In his opening remarks, IBC Coordinator Adewale Awoyemi welcomed members and introduced them to the basics of bird watching, especially the use of binoculars and guidebooks. He informed members that the birding site was chosen because it was preferred by some beautiful bird species that members might have the opportunity of watching. One of these was the Common Moorhen Gallinula chloropus, a beautiful waterbird, which members keenly watched while foraging in a mixed flock comprising the White-faced Whistling Duck Dendrocygna viduata and African Jacana Actophilornis africana.
Awoyemi explained that waterbirds help to connect different ecosystems. He also said that by foraging on seeds of aquatic plants in an area and defecating at roost sites in other areas, waterbirds are important agents of seed dispersal.
Expressing her pleasure for nature, Hilde Koper-Limbourg, IITA Deputy Director General, Corporate Services, said, "Although the Forest Center is under the Corporate Services Directorate, I attended this meeting because I love birds. However, I want to use this opportunity to thank all members for their dedication and support for biodiversity conservation." She further emphasized that she would continue to promote biodiversity conservation, especially the work of the Forest Center at the management level.
An interactive session was held during the walk, when members highlighted why they attend IBC meetings. For some members, the love of nature and the birds' colorful feathers and melodious songs were the primary reasons for attending, whereas others felt it was a means of energizing the body and soul. From the perspective of members who are teachers, the IBC was a form of "training the trainers," affording them the opportunity of acquiring useful skills which can be passed on to their students. Anastasius Farinola, a member of the IBC club, suggested that a short note on a bird species with its photograph should be reviewed and published on the IBC Facebook Group Page every week, to enhance their identification skills. An excited beginner, Ngozi Egwu, volunteered to start the write-up by focusing on the Malachite Kingfisher Alcedo cristata, which members regarded as the most beautiful bird sighted during the walk.
Interestingly, 197 birds, distributed across 31 species and 24 families were recorded during the walk. In his closing remarks, long-standing member, Funmilade Olumide, thanked members for attending the meeting and asked them to invite their friends and colleagues to the next meeting slated for 23 February.