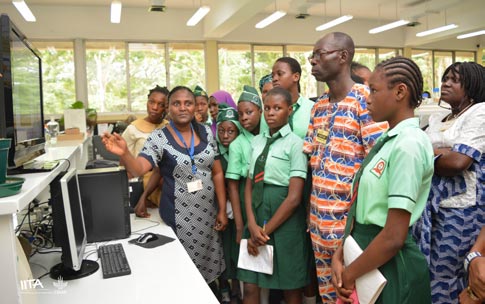 1
Women scientists in IITA speak on "International Day of Women and Girls in Science"
IITA joins the world in celebrating on 11 February the fourth International Day of Women and Girls in Science themed "Investment in Women and Girls in Science for Inclusive Green Growth." According to the United Nations, a significant gender gap has persisted throughout the years at all levels of science, technology, engineering, and mathematics (STEM) disciplines all over the world.
Although women have made tremendous progress towards increasing their participation in higher education, they are still underrepresented in these fields. IITA's continuing efforts to ensure gender parity across the Institute has given rise to many initiatives that are bringing recognition to female scientists.
An important aspect of fostering women's participation in science is the sensitivity of the leadership at IITA to gender needs. While speaking on IITA gender policy enacted in 2014, Nteranya Sanginga, IITA Director General, described women's participation in science as one which is not only fundamental, but also a necessary foundation for a peaceful, prosperous, and sustainable world.
IITA policies address two of the most commonly cited reasons for the low participation of women in science: lack of community to network and lack of mentorship. The Institute recognizes that full and equal access to and participation in science, technology, and innovation for women and girls of all ages is imperative for achieving gender equality and the empowerment of women and girls. In the view of Olufisayo Kolade, Postdoctoral fellow, Virology and Molecular Diagnosis, "IITA gives allowance to both male and female gender, being an equal opportunity employer."
Several factors contribute to the disparity between males and females in science, many of which are sociocultural. According to Bussie Maziya-Dixon, IITA Nutrition Specialist, "participation of females in science and technology is necessary, but socialization and traditional roles assigned to the girls at birth still determine the level of participation of girls in science because the life of the person is influenced or affected by sociocultural norms." The culture learned directly or indirectly to a large extent determines how the person thinks and feels as well as his or her actions and outlook in life.
However, this attitude is changing. Cultural values are being reorganized such that society now accepts and appreciates the contribution of women in scientific ventures. Speaking on the popular opinion about women's participation in science, Ranjana Bhattacharjee, IITA Molecular Geneticist, proposed that the responsibility of erasing the disparity among males and females lies essentially on women and girls. She said "women and girls need to have confidence in themselves and be prepared to grab any opportunity that comes their way. There is no rule that says women cannot operate machines or pilot scientific innovations, but it requires effort. Whatever you do, do it in a unique way; always strive to be the best and remember that nothing comes easy."
Mercy Diebiru-Ojo, IITA Cassava Seed System specialist, corroborates this by saying, "if your mind can conceive it, you can achieve it."
With activities such as education and public awareness-raising, the International Day of Women and Girls in Science aims at promoting the full and equal participation of women and girls in education, training, employment, and decision-making processes in the sciences.