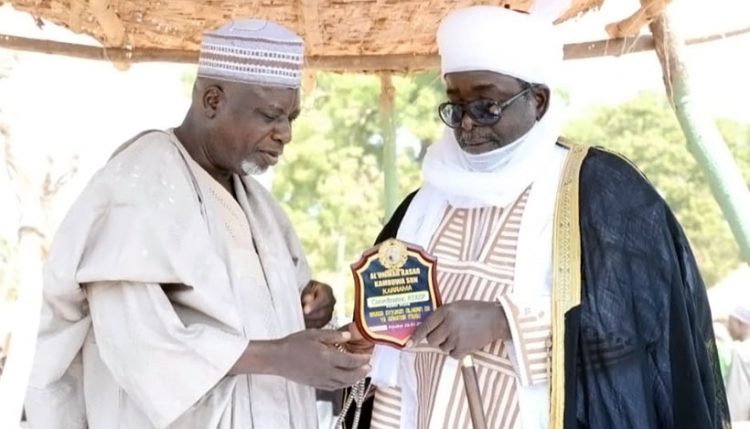 1
ATASP-1 honored for enhancing livelihoods in Kambuwa community, Kebbi State
The Nigeria Agricultural Transformation Agenda Support Program – Phase 1 (ATASP-1 Outreach Program) of the Kebbi-Sokoto Zone and the sorghum value chain implementation partner, the International Crops Research Institute for the Semi-Arid Tropics (ICRISAT), were honored by the people of Kambuwa community in Yauri Emirate of Kebbi State for developing the sorghum value chain, which has transformed its productivity and marketing in the community.
26 January was a remarkable day for the ATASP-1 program as the Program Zonal Coordinator, Dr Aliyu Abubakar, and the ICRISAT Country Representative and Commodity Specialist, Dr Hakeem Ajeigbe were recognized, appreciated, and honored with the Community Traditional Medals of honor during an elaborate agricultural show that showcased the impact of technologies adopted by the local farmers from both ATASP and ICRISAT.
The recipients were also honored with a display of the rich cultural heritage of the Kambuwa people under the leadership of Alhaji Adamu Abubakar Jibrin (Sardauna Yauri and Uban Kar Kambuwa).
The occasion was witnessed by the Secretary of the State Government (SSG) Alhaji Babale Umar who represented the Executive Governor of Kebbi State, Abubakar Bagudu and other dignitaries that include the Chairman Ngaski LGA, the Galadiman Yauri, and the Director, Research and Innovation of Aliero University of Science and Technology, Dr Sa'adu Birnin Yauri, and the District Head of Kalgo Alh. Ahruna Jada.
While making the presentation, the District Head of Kambuwa, Alhaji Adamu Abubakar said the meritorious award was in appreciation of the whole community to the ATASP-1 program for bringing several technologies that have transformed sorghum production and marketing, which has enhanced the people's livelihoods.
According to him, ATASP-1 has trained farmers on production, processing, and marketing at the community, local government, and state levels. Abubakar commended the ICRISAT office in Kano, saying the CSR 01 and SK 5912 sorghum varieties introduced have almost doubled the yield of their local varieties.
The presenter of the award, Alhaji Haruna Jada who is the District head of Kalgo, called on the recipients to see the awards as a challenge for more dedication and innovations to transform the lives of people in the rural areas.
In his acceptance remarks, Ajeigbe who spoke on behalf of ATASP-1 recipients, said the recognition would spur them to be more committed to their work and motivate them to offer more to the program beneficiaries. Gbassey Tarawali, the Program Coordinator, commended the recipients for the honors, saying "We are proud of you. Let's continue to keep the ATASP-1 flag flying."
Kambuwa is one of 30 communities participating in the ATASP-1 outreach program of the Sorghum Value Chain Development in Kebbi-Sokoto Zone in collaboration with ICRISAT.