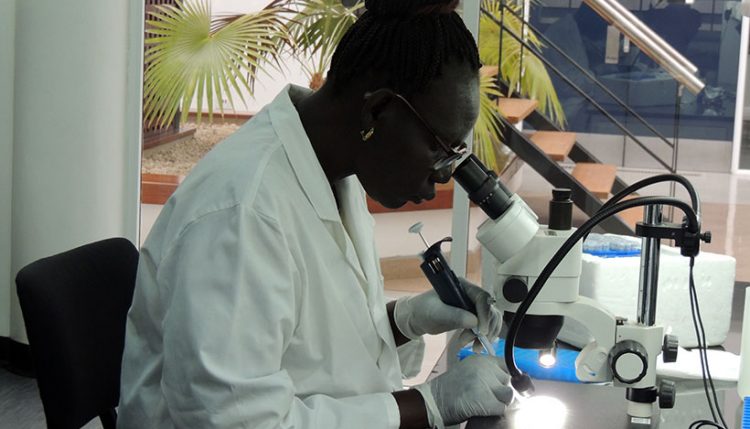 1
Defying odds to pursue a science career in war-torn South Sudan: Beatrice Langwa, PhD
Although female representation in science careers is no longer a novelty, it is still a rarity to find women scientists from conflict zones such as war-torn South Sudan. Beatrice Langwa, a PhD student at the University of Juba in South Sudan, is challenging that narrative. She is undertaking her PhD with a scholarship from the Norwegian Programme for Capacity Development in Higher Education and Research for Development (NORHED) project.
Langwa is studying sweetpotato viruses in three states in South Sudan, under the supervision of James Legg, IITA Plant Health Specialist based in Tanzania. Recently, she was at IITA Tanzania to conduct her experiments and analyses as the long years of conflict has left her country without research facilities.
Sweetpotato is the second most important crop after cassava in South Sudan and therefore, according to Langwa, the study is significant because the findings will contribute towards finding a solution to control and limit the spread of the diseases.
"It is important to identify the viruses that are spreading diseases and causing a lot of damage and destruction to sweetpotato and understanding how they are spread to find ways to control them. This is the first such study in my country," she said.
She also pointed out that she has experienced great difficulties during her studies due to the prolonged war in South Sudan. "The war has really affected my research, especially in the first year when I used to go to the field to collect information from farmers and samples for testing in the laboratory. Due to the conflict, we now have no laboratories; therefore, I had to transport my samples from Juba to Norway, which was challenging."
Langwa is also very appreciative of the support received from the Institute and especially from her co-supervisor, Legg. "IITA has been very supportive. The staff here are very good, cooperative, and ready to help. I have been learning a lot from them," she said.
She said she was grateful to IITA for the oppportunity to conduct the experiments at the laboratories in Tanzania as she cannot conduct the studies in her country. "I cannot do anything there at the moment," she noted.
She says she has now managed to collect most of the data needed to write her thesis, but she also needs to collect whiteflies, the vectors of the viruses, to study their diversity in South Sudan. "This is my worry as it will be difficult to access the farmers' fields easily because of the war."
Despite these challenges, Langwa continues to push for a better tomorrow for her country and a different narrative for women in the science.