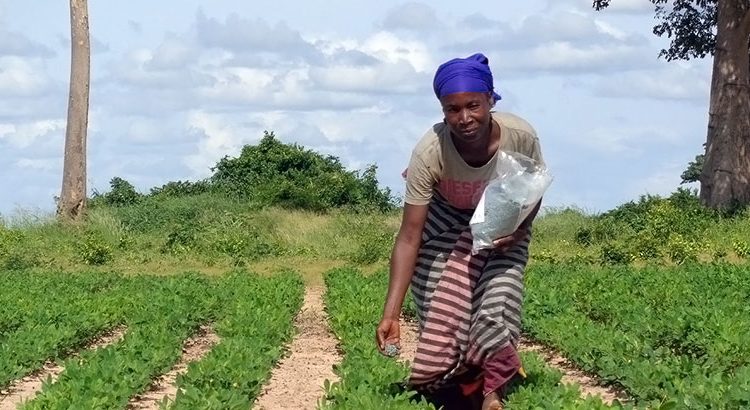 Aflasafe registration gets approval in Mozambique
After almost five years developing and field-testing an innovative but simple way to control aflatoxin in groundnut and maize  in Mozambique,  Mozambique's Ministry of Agriculture and Food Security on 20 February approved the registration of two Aflasafe products.
Aflasafe is a 100% natural solution to aflatoxin contamination. Each product is composed of four native-to-Mozambique, non-poisonous types of the fungus Aspergillus flavus. Aflasafe controls the aflatoxins by outnumbering them. It is a case of sending a thief to catch a thief to get rid of toxic relatives, because the poisonous and non-poisonous fungi are kith and kin.
Aflatoxin contamination in maize and groundnut is widespread in Mozambique. This naturally occurring poison compromises public health and causes liver cancer. Child stunting and weakened immunity resulting in more illness have also been associated with aflatoxin. Economically, Mozambique's re-entry into the lucrative groundnut export market has been compromised by aflatoxin.
The two registered products—Aflasafe MWMZ01 and Aflasafe MZ02—were first extensively tested in farmers' fields in four main maize- and groundnut-growing areas in Central and Northern Mozambique, covering a swathe from low to high altitudes across 5 provinces and 22 districts. Results showed dramatically high aflatoxin reduction (by between 85 and 99%) for both groundnut and maize, compared to situations without Aflasafe.
Most importantly, nearly all (more than 90%) of the maize and groundnut harvested from Aflasafe-treated fields met the stringent European Union safety levels of 4 ppb maximum total aflatoxins for food destined for human consumption, this compared with only 49% in non-treated fields.
The five-year project was funded by USAID–Mozambique and the United States Department of Agriculture–Foreign Agricultural Service (USDA–FAS). The two products were developed by IITA in collaboration with USDA's Agricultural Research Service, University of Arizona (USA), Mozambique National Agricultural Research Institute and Mozambique's Ministry of Agriculture and Food Security.
Following Aflasafe registration, the Ministry of Agriculture and Food Security has asked IITA to organize awareness raising activities about aflatoxin issues as well as promote the use of Aflasafe in the country. These will include the organization of a workshop as soon as possible.
Several partners have already shown interest in manufacturing and commercializing Aflasafe in Mozambique. A very dynamic nationwide Groundnut Working Group comprising government and non-government actors including IITA has already pinpointed Aflasafe as its key strategy to control aflatoxin in groundnut. This heralds better times, and Mozambican farmers can look forward to safer food, better health, and profitable crops.
Mozambique is the 9th country where Aflasafe has been registered after Nigeria (2014), Kenya (2015), Senegal and The Gambia (both 2016), Burkina Faso (2017), and Ghana, Tanzania and Zambia (all 2018).