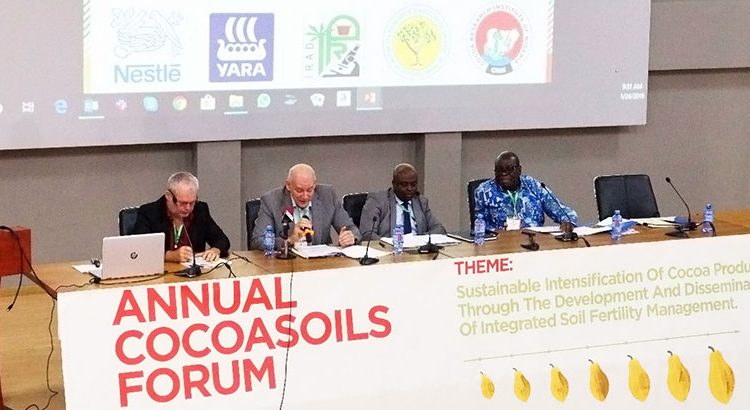 CocoaSoils partners discuss ways to strengthen agronomic research and dissemination
The maiden Annual CocoaSoils Forum was held in Accra, Ghana on 24 January. The forum followed a three-day Science Committee meeting in which research and project partners came together to assess project implementation, assure transparent and accessible dissemination of research outcomes, and provide inputs into the research of the different partners.
The forum brought together program coordinators, representatives from national and international research institutes, government representatives, non-program industry companies, farmer organizations, in-country cocoa authorities, farmers, and the media, among others.
The annual forum aims at building a common understanding of the CocoaSoils program by sharing the outline and progress made so far, while engaging partners to further strengthen agronomic research in West and Central Africa.
The CocoaSoils program seeks to enhance cocoa productivity and nutrient-use efficiency through a sustainable intensification approach to enable the development and dissemination of integrated soil fertility management (ISFM) recommendations. IITA is one of multiple public and private partners in the consortium established to implement the program.
The program, which is funded by the Norwegian Agency for Development Cooperation (NORAD), is poised to translate the results from the research into practical applications by highlighting public‒private partnerships. The forum provided a platform to showcase its outputs and also to get inputs from various experts to improve the program.
Daniel van Gilst, the representative from NORAD, took the opportunity to explain the global impact the program will make with the results and implementation of the research. He further explained that "the problem of poor soil management is an important one because too many people are affected by cocoa and too many households depend on cocoa."
Speaking at the forum, Deputy Chief Executive of the Ghana Cocoa Board (COCOBOD), Dr Emmanuel Agyemang Dwomoh, emphasized that the Ghana COCOBOD is committed to the success of all the activities within the program. He said he hopes that the research component will filter down to the farmers and positively affect cocoa production in Ghana.
The forum had several presentations from various experts within the CocoaSoils program as well as a marketplace poster exhibition, where various trial managers and students on the project exhibited their research and progress.