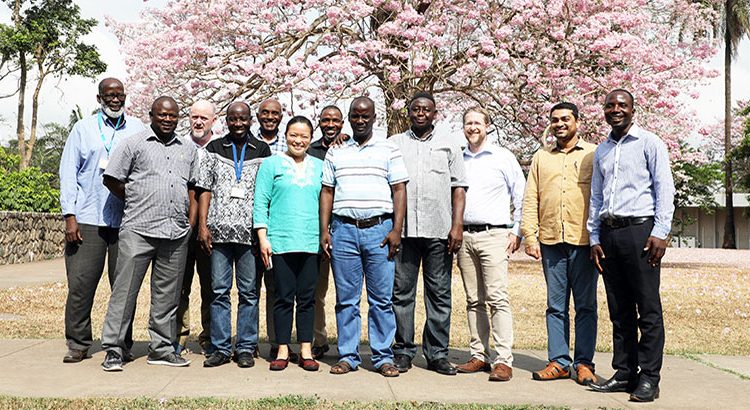 IITA, Bayer, NARS meet to modernize cowpea breeding
Representatives from the Global Breeding/Analytics and Pipeline Design team of Bayer–Crop Science, met with IITA's cowpea breeding program team and scientists from some national programs on  4-7 February to review ongoing collaboration. The meeting also aimed to fine-tune models through which IITA and national partners can benefit from Bayer's expertise in modern crop breeding.
The delegation, comprising Development and Deployment Lead Dr Stella Salvo and Discovery Breeding Methodology Lead Dr Brian Gardunia, was received by Michael Abberton, the acting Director for IITA West Africa Hub. Abberton gave an overview of IITA's activities and achievements over the past years while highlighting the importance of partnerships with organizations that seek to improve all aspects of agriculture..
The visit is part of an ongoing program that has been running for almost four years and was originally started by Monsanto, which has now been taken over by Bayer. Bayer works with the cowpea breeding program of IITA and the national programs in Nigeria, Ghana, Mali, and Burkina Faso, to modernize their breeding programs and enhance genetic gain annually. The program aims to ensure more effective use of molecular techniques, data management and data collection, enhanced use of mechanization, and field selection in general.
Ousmane Boukar, IITA cowpea breeder, emphasized the importance of engaging Bayer in the process of improving cowpea breeding in West Africa. He noted: "For effective and complete improvement in cowpea breeding, it is important to learn from the expertise of professionals. Bayer is a big industry with knowledge of modern breeding, and so, the outcome of this collaboration will undoubtedly transform breeding systems."
Christian Fatokun, IITA legume geneticist and breeder, revealed that, "The recent meeting between IITA, Bayer, and NARS partners from different West African countries was a huge success as the cowpea breeders were taken through the procedures for deploying quantitative trait loci (QTL) in modern breeding and facilitating genetic gains in improved varieties."
Bayer is a life science company with over 150 years of experience in the aspect of health care and agriculture. Bayer continually contributes to finding solutions to some of the major challenges of our time.