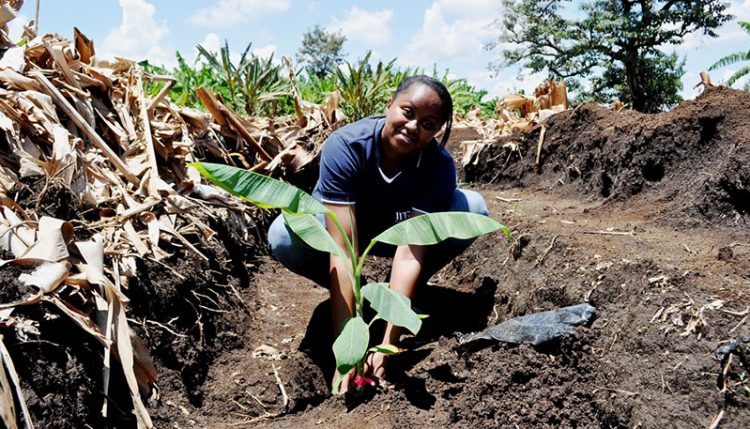 Interview with Brigitte Uwimana, Banana Molecular Breeder
Brigitte Uwimana is IITA Banana Molecular Breeder from Rwandan based in Uganda. In this interview, she shares some of her experiences working as a researcher.
Q: As an upcoming young female scientist at IITA, did you always want to do science?
A: Science has fascinated me for as long as I can remember. I always wanted to do something related to plants. I grew up in a rural area, and my dream was to produce more food for people.
Q: Tell us briefly about your journey into science and studying banana. Why banana?
A: My journey into science started in high school when I was picking subjects to major in. I was advised to take mathematics, physics, chemistry and biology. I was told those four would open any door I wanted, and they did. While doing Agricultural Sciences at my BSc level, I learnt about genetics and breeding, and I found my passion. I started working on bananas after my PhD studies. I grew up eating bananas, more specifically the cooking type, also known as "matooke". They are not much known outside of the African Great Lakes region, even though millions of people depend on them for food security and as a source of income in Eastern and Central Africa.
Q: What are some of the fun stuff you get to do as a banana researcher?
A: I like the diversity and combination of activities. I work in the field, and in the laboratories, specifically tissue culture and molecular labs. I interact with people from different disciplines such as food scientists, pathologists, nematologists, etc.  Each day is unique, and one can never get bored.
Q: What uniqueness do you think you bring into the research field as a woman?
A: My sensitivity, resilience and multitasking ability.
Q: What unique challenges would you say women face in their science career?
A: Despite the current era of gender equality, there are still cultural and social barriers that hinder women from being as successful as men. For instance, we are expected to fulfill certain roles such as getting pregnant and carrying the biggest load of raising the children and home making. In that way, women in science face the struggle of striking the right balance between career and family or having to choose between the two.
Q: Who are some of your mentors and role models? How important are mentors and role models for girls in science? Who are you mentoring?
A: My first role model is my mother. She was not allowed to finish high school because at 15 years old she was getting too old to get married. Does that make her my "anti-role model"? As a kid, she would always tell me that she is waiting for the highest degree that I would bring her. My second role model and mentor was my very first supervisor, Dr Kwasi Ampofo. We met for the first time 16 years ago when he was working for CIAT. He introduced me to CGIAR and ordered me (literally) to get master's and PhD degrees. My current mentor is Prof. Rony Swennen. He is an emphatic team builder and his knowledge and experience with banana are encyclopedic.
Girls need someone to believe in them, guide and nurture their talents and ability, without taking advantage of them. I am mentoring a number of future scientists in the banana breeding program, as research technicians and associates in various areas or MSc and PhD students. One of them, Violet Akech, is a research associate in Sendusu. She is in charge of field and lab operations for the banana breeding program. She is smart and dedicated, and I can see her going places as a scientist.
Q: What should IITA and other research institutes do more to attract more women scientists?
A: IITA and other research institutes could offer scholarships to women at MSc and PhD levels. Having women in senior positions also helps to enlarge the horizon of younger scientists. Already hired women should be retained by setting up a gender-sensitive working environment. For instance, young mothers should be allowed to work part-time if they wish to. Day-care and nursing facilities should be available in all stations. Zero-harassment policy should be set in place (if it is not available) and vigorously implemented.