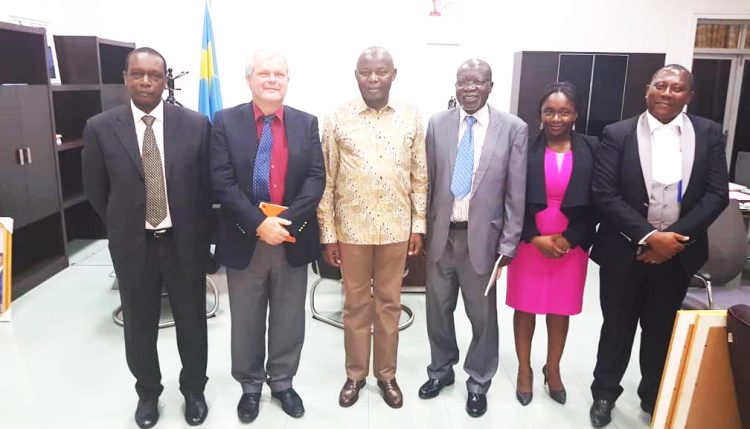 Central Africa Hub delegation visits new DRC Chief of Staff
A delegation from the IITA Central Africa regional hub paid a courtesy call on the Chief of Staff of the President's Office of the Democratic Republic of Congo (DRC), Mr Vital Kamereh, at the Palais de la Nation on 7 March. Bernard Vanlauwe, Director of the Regional Hub for Central Africa, led the delegation.
The purpose of the meeting was to congratulate the team of the President on their success at the presidential elections. Vanlauwe also used the opportunity to present IITA's activities in DRC, and in the wider African context.
Vanlauwe spoke briefly about IITA's ongoing interventions in DRC, including research on crop varieties tolerant and resistant to cassava brown streak disease and the maize legionnaire larva. He also outlined innovative approaches including national capacity building through diploma training in different value chains, the integration of youth in agribusiness, and the expertise of other CGIAR centers in the framework of joint projects for more impact in the beneficiary communities.
Vanlauwe presented Kamerhe with a document summarizing the activities of IITA in the DRC, the results obtained, the gaps and challenges identified as well as the new perspectives.
Kamerhe appreciated IITA for the visit, welcoming the Institute's activities in the DRC and pledged the country's support for IITA's activities for the Congolese community.
The members of the IITA delegation included Zoumana Bamba, DRC Country Representative; Nzola-Meso Mahungu, Project Coordinator; Eric Irenge, Operations Officer; and Michèle Kimpwene, IITA Communication Consultant.