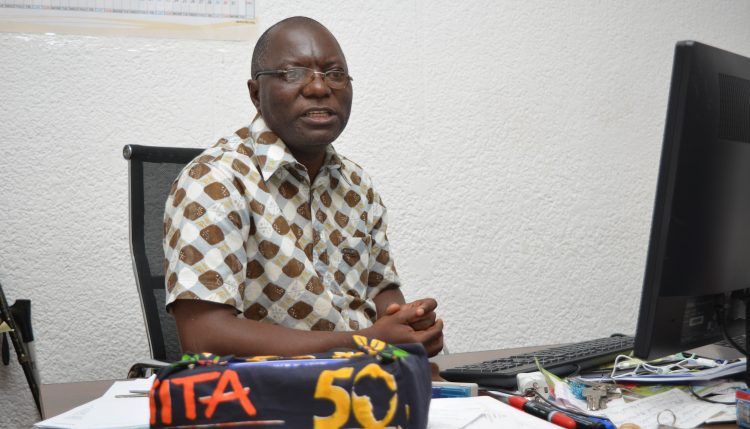 IITA in the spotlight: A fellowship award from the Wellcome Trust Foundation in the UK
IITA Molecular Entomologist, Rousseau Djouaka has been awarded a fellowship from the prestigious British foundation, Wellcome Trust. The foundation conducts a highly competitive selection process, choosing Fellows for funding from scientists working on topics related to human health.
Djouaka, who is based at IITA-Cotonou in Benin, will be receiving funding for the next 5 years (till 2024) from Wellcome Trust-UK to carry out research on the use of synthetic agrochemicals by farmers and their contributions to insecticide resistance selection in the malaria vectors. Mosquitoes that transmit malaria are becoming increasingly resistant to the chemical insecticides used to control them and this might be due to the inappropriate use of the same chemicals in farming to kill crop pests.
During the 5-year International fellowship, Djouaka will determine the resistance status of mosquitoes breeding around different types of crops found in West and Central Africa, comparing them with those breeding in areas with no agricultural activity. He will also identify which cropping system has a greater risk of contributing to resistance in mosquitoes that transmit malaria.
His research activities will be conducted at IITA stations in Benin and Cameroon, at the Liverpool School of Tropical Medicine (LSTM-UK), and at the University of Crete, Greece. Information from this research will be useful for agriculture workers and malaria-control decision makers.
Visit this link for more details: https://wellcome.ac.uk/funding/people-and-projects/grants-awarded/do-agricultural-insecticides-utilisation-west-and-central