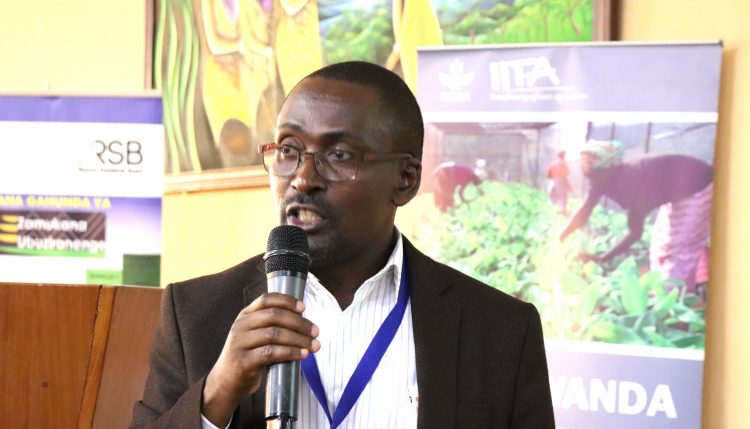 IITA partners with Rwanda to develop cassava clean seed standards
The Rwanda Standards Board (RSB) has launched the cassava clean seed standards along with 292 other standards in different sectors at a colorful event held in Kigali on 7 February. The cassava seed standards was one of the three standards showcased during the launch. The other two were on mosquito repellants and good financial grant practices.
The launch aimed to raise public awareness about the standards and had several stakeholders in attendance including the Government of Rwanda represented by the Rwanda Agriculture Board (RAB), the RSB, cassava farmers, processors, and seed multipliers as well as the media.
Since the start of 2018, RSB has worked through several stages of developing the standards, working in partnership with key stakeholders in the cassava seed value chain in Rwanda. IITA-Rwanda participated fully in the process through the IFAD-funded Cassava Brown Streak Disease (CBSD) Control Project.
Speaking at the launch, Silver Tumwegamire, IITA Cassava Breeder based in Rwanda, described the seed standards as timely and impactful. "The launch of the cassava seed standards in Rwanda is timely. About two to three years back, there was a big national cry because cassava had been seriously affected by the disease that had come from neighboring countries, particularly Uganda and Tanzania," said Tumwegamire. He added that these diseases affected cassava production, causing much hardship for farmers and consumers alike.
IITA used its experience to provide technical support in the process of developing cassava seed standards, "IITA borrowed experiences from other countries where it has intervened with cassava seed standards to give knowledge on what is needed to be included in the standards. We gave technical backstopping to the whole process," added Tumwegamire.
The cassava seed standards set guidelines for cleaner seed for breeders, multipliers, and farmers. They are expected to play a key role in preventing further spread of existing cassava diseases in Rwanda such as CBSD and Cassava Mosaic Disease (CMD), raise agricultural production and productivity, improve food security, and increase incomes. Cassava Coordinator at RAB Dr Athanase Nduwumuremyi said, "Everyone is producing seed, but we do not know whether it is clean or not. So through that engagement it was realized that Rwanda needed to develop seed standards, and IITA, through the project, was to facilitate that process."
The support of IITA in developing these standards was highly appreciated by the RAB. Dr Charles Bucagu, RAB Deputy Director, noted, "We worked with IITA in developing cassava seed standards so that farmers cultivate clean seed and that is an achievement we are proud of."
RSB Director General Raymond Murenzi added that these cassava seed standards are a milestone because there were no standards of the kind before. He stated, "We spent a year preparing them together with research institutions that have responsibilities in cassava crop development. These standards are ready; what remains is to implement them starting from seed multipliers."
Cassava is an important staple food in Rwanda and is among the seven crops prioritized by the government to commercialize agriculture in the country. To realize this vision, the Government of Rwanda financed the establishment of Kinazi Cassava Plant in the cassava-growing Ruhango Province, to process quality cassava flour targeting local, regional, and European markets. About two years back, the plant nearly shut down due to lack of roots for processing as a result of CBSD outbreak.
Kinazi Cassava Plant CEO Emile Nsanzabaganwa said, "This provides assurance to believe that no other problem will arise in cassava because everyone used to say that they have cassava seed simply because they had cassava stems. This has changed and there are now guidelines to follow, giving investors assurance in the cassava production chain." He added that through discussions with IITA, the flour factory expects the development of a cassava variety with a low root-to-flour ratio.