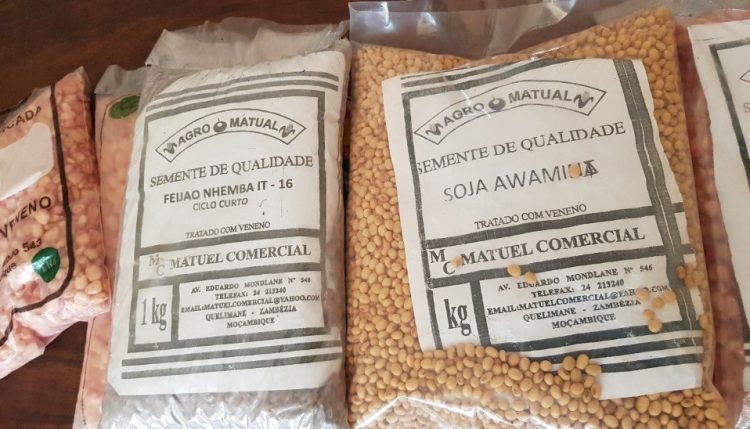 Project makes progress in developing sustainable seed systems in Mozambique
Project Manager for Feed the Future Mozambique Improved Seeds for Better Agriculture (SEMEAR) project, Carlos Malita, gave a presentation on 22 February at IITA-Nampula, Mozambique, in which he highlighted  the project's achievements, prospects, future plans, and its contribution to economic development.
The contract review seminar titled "Formal & informal seed systems – one or another? Their roles in increasing access and use of improved crop varieties," focused on the strategies that have been deployed to increase access and use of improved technologies for enhanced productivity and food security of rural households in the "Feed the Future Zone of Influence" (FTF ZOI) in Manica, Nampula, Tete, and Zambézia provinces.
Malita noted, "Despite technological improvement in the agriculture sector today, farmers still face a lot of challenges that include climate change, pests and diseases, high cost of certified seed, and inaccessibility of suitable seed (resistant/tolerant to pests, disease, drought).
"SEMEAR is catalyzing the informal seed systems, alongside improving and strengthening linkages with the formal seed system through capacity building, partnership, demand creation, seed production and distribution, technology use, and outreach," he added.
Speaking on strategies for scaling seed systems, Malita said, "I am optimistic that if all these strategies are enhanced, farmers will have increased access to improved seed varieties which will in turn translate to the quantity of their crop yield and level of income."
With the objective to increase production and distribution to reach 500,000 people (300,000 directly, 200,000 indirectly, and made up of 35% women), SEMEAR's interventions pay attention to the roles of both formal and informal seed systems as important avenues for sustainable seed systems development.
SEMEAR relies on public–private partnerships to implement project activities like partnering with private seed companies, and with farmers, and developing informal seed system initiatives that will link with the formal systems for production and supply of improved seed to rural households. SEMEAR supplies early generation seed to its partners, provides business development services, and establishes functional linkages with seed authorities, buyers, and sellers while engaging partners in seed multiplication activities.
In the future, SEMEAR will continue pursuing activities aimed at improving both systems through development of partnerships with the public sector, private sector, community-based organizations, and other stakeholders, which have proven to be crucial for the sustainable improvement of the national seed systems.