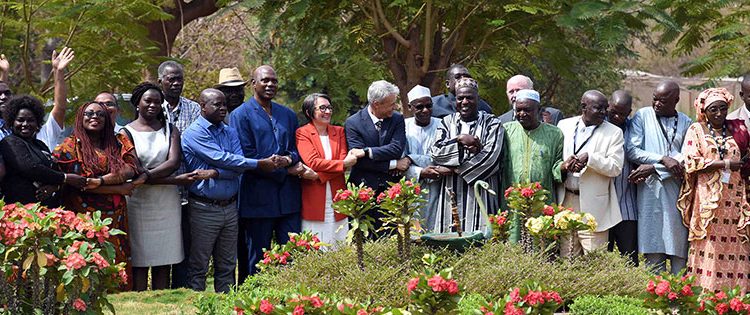 New project launched to improve rural livelihoods and food security in Mali
The newly initiated Climate Smart Agricultural Technologies (CSAT) project was recently launched in Mali at an event held on 19–22 March.
The launch ceremony had in attendance the Permanent Secretary of the Ministry of Innovation and Scientific Research in Mali; the Director General, Institute of Rural Economy (IER); the Ambassador, Norwegian Embassy in Mali; IITA Deputy Director General, Research for Development (DDG-R4D); and representatives of other organizations, including the International Crops Research Institute for Semi-Arid Tropics  (ICRISAT).
This research-for-development project will promote and scale up technologies to help producers adapt to the effects of climate change in the Sahel. In addition to scaling up existing technologies, researchers will develop additional options to make better technologies available to different actors, including the use of information and communication technologies (ICTs) to receive real-time information on climate and crop pests.
The CSAT project, financed by the Embassy of the Kingdom of Norway in Mali, will run for a period of five years (2019–2024). Ambassador Ole Andreas Lindeman stated that the partnership
with IITA is important particularly in the context of Norway's strategic objectives with regard to Mali. "For one thing both countries share extreme weather conditions and the effects of climate change," he said.
The project aims to (i) reduce poverty and food insecurity; (ii) protect natural resources; and (iii) grow farmers' incomes through increased agricultural productivity, access to markets, and promoting the creation and/or strengthening of agribusiness enterprises, especially those run by women and youth. The project will provide farmers with options to increase their resilience and the ability to adapt to the effects of climate change.
IITA DDG-R4D, May-Guri Saethre, in her speech noted: "The economy, environment, and conflict have contributed to both seasonal migration and emigration. IITA believes that investment in agricultural R4D can help address some of these problems."
At least 20,000 rural households will directly benefit from interventions in four regions of Mali (Kayes, Koulikoro, Ségou, and Sikasso). Overall, project activities are expected to result in more than a 20% increase in crop yield and a 15% increase in household income. The project will strengthen 250 agricultural enterprises and facilitate the creation of 100 new agribusinesses run by young people and women. In addition, 600 young graduates and rural people will be trained in agribusiness. Trained youth will benefit from local business-building opportunities and become role models for other young people.
The interventions will have two main components: the dissemination of intelligent and recognized technologies, ready for use against climate change, and research to develop fresh innovations throughout the value chain.
The project will be coordinated by IITA, in partnership with IER, ICRISAT, the Norwegian Institute for Research on Bioeconomy (NIBIO), the Department of International Studies in Environment and Development of the Norwegian University of Life Sciences (NMBU-Noragric). Other partners include extension service providers, seed companies, producer organizations, women and youth, and Malian NGOs.