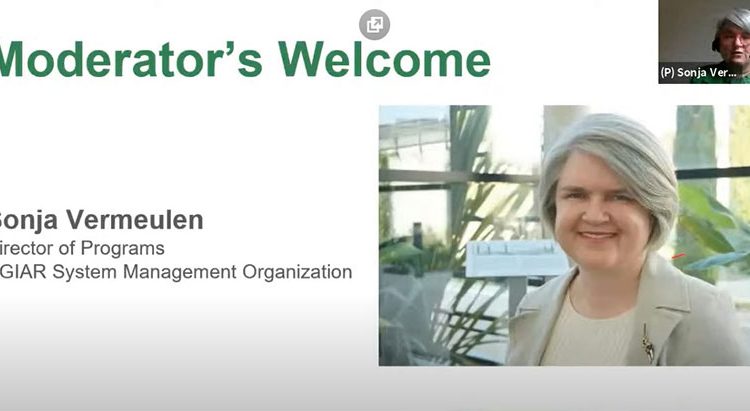 Scientists discuss ways to manage climate risks in protecting plant health
CGIAR, in conjunction with various partners including the Food and Agricultural Organization (FAO), has launched a series of webinars to celebrate the International Year of Plant Health (IYPH), which continues in 2021 because of the COVID-19 pandemic disruption. The four-webinar series is themed "Unleashing the Potential of Plant Health."
The first webinar, "Climate change and plant health: Its impact and implications on the role of research adaptation and mitigation," took place on 28 January. Scientists from various organizations including CGIAR and IITA, assembled virtually to discuss the effect of climate change on plant health.
Human-driven climate change poses a great threat to agriculture and can lead to weather events such as heat, drought, and floods, making plants vulnerable to pests and diseases. Changes in weather patterns can generate conditions favorable to the spread of pests and diseases. Climate change also affects smallholder farmers throughout the developing world, making their communities the most vulnerable to food insecurity and unable to adjust to shocks.
Hence, CGIAR, the largest agricultural research-for-development network, collaborated with Bill Gates to launch a new research innovation strategy. The strategy focuses on confronting shocks and risks to food and farming systems such as market collapses, disease epidemics and pandemics, and climate risks. The strategy also recognizes holistic solutions, which will make food systems sustainable and that consider plants and food systems together.
Sonja Vermeulen, Director of Programs, CGIAR System Organization, moderated the session. She stated that following the strategy, the webinar aims to examine the multi-stakeholder action that can be taken to manage plant health risk in the face of climate change. The goal is to increase farm income and create new jobs and businesses that benefit the resource-poor, women, and youth. It outlines how climate change continues to disrupt our ecosystems, with knock-on effects for food security, nutrition, environment, gender outcomes, and livelihoods.
She said, "The webinar presents examples of how to respond as a whole system, highlighting the role of research and evidence-based policies in providing support to global efforts in managing climate risks to plant health."
During the webinar's first session, Henri Tonnang, Head of Data Management Modeling and Geo-Information Unit at icipe, made a presentation on the anticipated impact of climate change on plant health. Tonnang stated that the impact of climate change on insect pests is complicated as it increases the likelihood of invasive pests. Citing the fall armyworm and its effect on maize, he stated that due to climate change, this pest has spread across Africa.
During a panel discussion, Shenggen Fan, Chair Professor and Dean on Global Food Economics and Policy at China Agricultural University and CGIAR System Board Member, talked about the implications of climate change for food security and nutrition for gender, livelihood, and the environment. Highlighting the importance of plant health to global food security, Fan mentioned that the presence of pests and diseases has resulted in a loss of 20–40% of food crops leading to increased hunger and malnutrition. "Climate change will make this worse as more crops will be lost due to the increase in pests and diseases," he said.
Vermeulen highlighted cooperation and sharing of new ideas among national and international partners as one of the key points from the breakout sessions. She also mentioned the need to work closely with the end-users of research so that scientists can answer the right questions through research. Another major point was the importance of working closely with private sector actors.
Concluding the webinar, Vermeulen said, "There is a lot of work to do on research, not only in the biophysical aspect but also in understanding farmers' behavior, how they take up new information, technologies, and approaches to protect plant health in the face of the climate crisis."