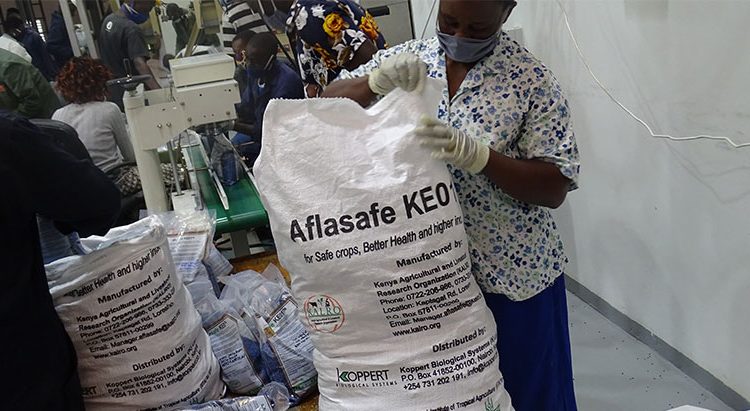 Aflasafe KE01: Biocontrol measure for Aflatoxin
Aflatoxins are a family of secondary toxins produced by certain fungi found on a wide range of commodities, including maize and groundnut. The primary fungi that produce aflatoxins are Aspergillus flavus and Aspergillus parasiticus found in warm and humid regions of the world. Aflatoxin-producing fungi can contaminate crops in the field during harvest and storage, making food and feed unsafe for human and animal consumption. This has led to various health issues such as cancer, liver damage, and stunted growth in humans.
A study carried out in Kenya revealed that the negative effect of aflatoxins on crops and animals has affected health and productivity and reduced the market value of agricultural products internationally. Therefore, a biocontrol product, Aflasafe KE01, was introduced, which would be facilitated by the farmer's willingness to pay and factors that would affect their decision.
The researchers carried out the study in four counties—Makueni, Machakos, Kitui, and Tana River—the hotspot regions for aflatoxin contamination. The research team used systemic sampling to select a sample size of 480 farmers. The Contingent Valuation Method (CVM) was used for the analysis.
The study revealed that the major constraints to aflatoxin management, despite the numerous recommendations, are a poor interpretation of knowledge about solutions, time and labor intensiveness of some of the technologies, inadequate know-how on use of technologies, and ethical aspects. There is also the issue of climate change favoring aflatoxin accumulation even when mitigation measures are in place.
The study also highlighted the need for integrating different approaches to the control of aflatoxin contamination, such as breeding for resistance, good agricultural practices, biological control, postharvest measures, physical methods, chemical methods, genetic engineering, and enforcement of regulatory measures.
Aflasafe KE01 is effective, cutting aflatoxin levels in maize and groundnut by 80% to 100%, down to safe levels. A single application of Aflasafe KE01 by farmers protects food for humans and animals, with Aflasafe-treated maize cutting chicken mortality by 40%.
The study revealed that contact with the extension agents positively influenced farmers' willingness to pay for the aflatoxin biological control product. The extension agents introduced it to them through awareness activities and the availability of household income.
The findings suggested that distribution networks should be made available to reach end-users to scale up the product.