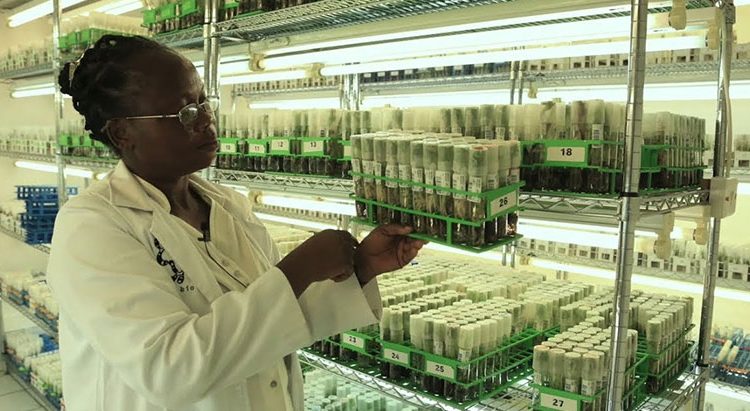 CGIAR Germplasm Health Units contributing to global phytosanitary systems
Quarantine and phytosanitary procedures have been established in all countries worldwide to address seed-borne pests spread by screening export and import consignments of germplasm. The CGIAR Germplasm Health Units (GHUs) use a unique multidisciplinary approach to ensure phytosanitary protection for the safe conservation and global movement of germplasm from the 11 CGIAR genebanks and breeding programs that acquire and distribute germplasm to and from all parts of the world for agricultural research and food security.
Over the years, the Centers have developed expertise on the safe exchange of germplasm of mandate crops by mobilizing interdisciplinary capacities for seed and plant health testing, phytosanitation, and therapy procedures to generate pest-free planting material or salvage germplasm after eliminating the risk of contaminating pests.
CGIAR scientists published a recent paper describing the mission and functions of CGIAR GHUs. The paper explores the adoption of transdisciplinary approaches for phytosanitary protection of germplasm at all stages of the value chain, from acquisition for conservation in genebanks to regeneration for accession increase, breeding, safety duplication, and regional and international distribution, for the safe global movement of germplasm from the CGIAR genebanks and breeding programs.
The germplasm distribution from CGIAR programs reaches about 100 countries annually. This distribution accounts for almost 89% of the total annual international germplasm exchanges under the International Treaty on Plant Genetic Resources for Food and Agriculture (ITPGRFA or the Plant Treaty).
The GHUs operational in 11 CGIAR centers—AfricaRice, Alliance Bioversity International and CIAT, CIMMYT, CIP, ICARDA, ICRAF, ICRISAT, IITA, ILRI, and IRRI—have been serving as a vital conduit of the globally coordinated CGIAR crop research programs testing thousands of germplasm and new breeding lines in multiple field sites for the identification of lines with superior yields, high nutrition, and resilience to biotic and abiotic stresses.
With the increased risk of transboundary pests and pathogens, the GHU's efforts in thoroughly testing germplasm accessions for known pests before their release for international transfer have averted the accidental spread of quarantine pests. GHUs routinely check for 320 pests and pathogens and invest about US$10 to 12 million each year on the production of germplasm for safe international transfers.
This is particularly significant as most CGIAR centers operate in countries where some of the most dreaded pests are prevalent. These centers continue to facilitate crucial germplasm transfers to many stakeholders worldwide, delivering a positive impact on the UN Sustainable Development Goals (SDGs) on zero hunger, nutrition and food security, poverty reduction, environmental health and biodiversity, and climate adaptation.
The high-level capacity, experience, track record, and global distribution in the developing world enable the GHUs to play an essential role as centers of excellence in support of national or regional pest and disease surveillance and rapid response.
Read this IITA blog post for more details or download a free copy of the paper, Phyto-sanitary Interventions for Safe Global Germplasm Exchange and Prevention of Transboundary Pest Spread: The Role of CGIAR Germplasm Health Units, at this link: https://www.mdpi.com/2223-7747/10/2/328.