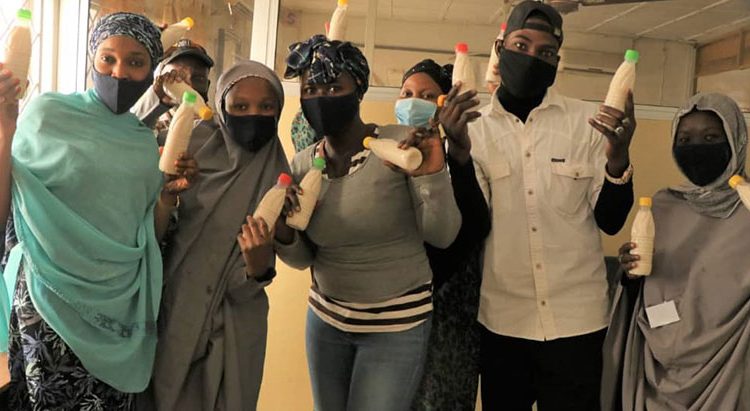 Enhancing youth's willingness to engage in agripreneurship
With about 14% of Nigerian youth experiencing unemployment in 2020, research showed that youth between 15 and 24 years are not only available for employment but are actively seeking various means of employment. The huge youthful population in Nigeria faces high rates of unemployment, underemployment, and poor livelihood.
A recent study by IITA–CARE youth researcher Sulaiman Umar reveals that agriculture can be a sustainable source of employment and livelihood for many youth. Employing more youth as modern agripreneurs would increase domestic food security while developing a rural economy and engendering economic growth. The study also found that undergraduate students are willing to engage in agribusiness, especially when given an enabling environment.
The research carried out in north-western Nigeria assessed the factors that influence youth engaging in agribusiness in contrast to their south-western counterparts. According to Umar, north-west youth are willing to engage in agribusiness if conditions are enabling, while those in the south-west will opt for other occupations rather than agriculture.
Youth in Nigeria form a significant part of the population, with potentials that can be strategically harnessed to provide sustainable solutions to unemployment. Agribusiness has been listed as one of the major solutions to creating employment for young people, and this study reveals some of the factors that motivate them to become agripreneurs.
According to the study, which IFAD is sponsoring, young people with positive attitudes and confidence in their agribusiness skills are significantly more likely to become agripreneurs. "Ideally, youth trained in faculties and schools of agriculture in universities and polytechnics acquire such competencies," Umar stated.
The study recommended that policymakers engage civil society organizations and youth groups in enlightenment campaigns geared towards changing mindsets and encouraging youth to embrace agribusiness as a means of livelihood.
In the study, Umar recommends initiatives that can make soft loans available to young agripreneurs while equipping them with the skills and competencies needed to establish and manage agribusiness enterprises. He also suggested that African governments also explore public-private partnerships as this will help increase investments in conditions that facilitate agribusiness.
The youth are critical stakeholders in policy creation; hence, there is a need to increase emphasis on practical and pertinent agribusiness skills in school curricula while embarking on continuous training and re-training of teachers at all levels.
Umar concludes that youth are willing to embrace agribusiness as long as conditions such as sustainable land tenure, access to productive resources, and support from the government and private sector are favorable.