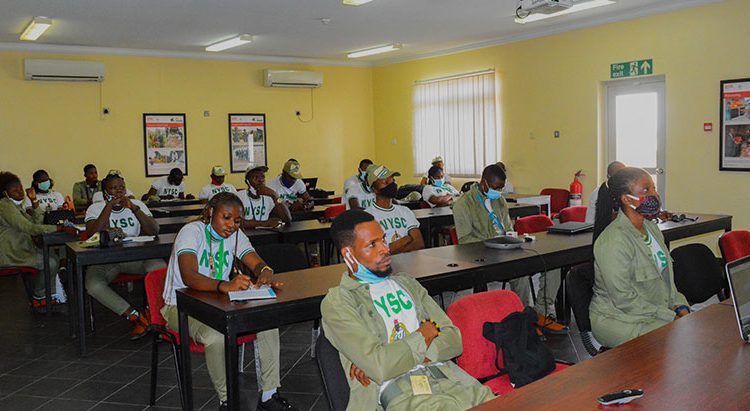 IITA Corps members organize seminar on alleviating hunger and poverty
The IITA National Youth Service Corps (NYSC) community recently organized a one-day seminar themed "Alleviating hunger and poverty through agriculture: Today's youth; tomorrow's leaders" for corps members across Nigeria. The immersive full-day event took place on 15 February and aimed to motivate and empower corps members to engage in productive research and business opportunities in agriculture. The seminar also inspired corps members to take up roles as leaders and enhance their advocacy skills to move forward in and after their service year.
The seminar was a hybrid event taking place both physically and virtually. IITA Deputy Director General for Cooperate Services, Hilde Koper, gave a welcome address at the session moderated by IITA corps member Dolapo Ajibare. Koper advised that youth should work together in a culture of impact.
In his keynote address, the NYSC Director General, Brigadier General Shuaibu Ibrahim, urged the corpers to seize the opportunities in the agriculture sector, especially at a time of global economic challenge. The Oyo State NYSC Coordinator, Grace Ogbuogebe, appreciated the energetic young graduates on the topical issue concerning the role of youth in agriculture. She advised them to use their potentials and energy to embrace agriculture and contribute immensely to alleviating hunger and poverty through agriculture.
Sanni Lateef, IITA Project Manager for BASICS II project, encouraged youth to find solutions to research problems in agriculture to nurture agricultural development in Africa. "Youth involvement in research partnerships will give them quality assurance, which is very important," he said. Lava Kumar, Virologist and Head of IITA Germplasm Health Unit, spoke about employing digital smart farming tools and strategies to transform agriculture.
IITA Youth Agripreneur (IYA) Business Development Officer Osun Idowu spoke about the youth initiatives: IYA and Empowering Novel Agribusiness-Led Employment for Youth in African Agriculture – Technology for African Agricultural Transformation (ENABLE-TAAT). IYA engages youth in modern agriculture careers and agribusiness, which is a potent means to address youth empowerment. ENABLE-TAAT involves youth in out-scaling the Technologies for African Agricultural Transformation (TAAT)'s key technologies. "This can be done by changing youth's mindset towards agriculture for them to see agriculture as a profitable business and a source of great employment opportunities," he noted.
IITA Postdoctoral Fellow Titilayo Falade presented on Youth Leadership: Building a corps of youth to influence national development through agriculture. "As a young person interested in leadership and agriculture, it is necessary to acquire information in gaining skills, in exploring approaches, and in using what you learn," she said. Falade also encouraged the youth to lead themselves first and be the leader today.
Sylvia Oyinlola, Head of Administration, West Africa Hub, spoke on Agricultural risks and opportunities: Assessment and management. She stated that taking risks will open up the potential of identifying business opportunities. Zaina Sore, Head, Capacity Development Office, spoke on the need for youth capacity building to foster agricultural innovation. She advised the youth to tap into youth empowerment initiatives, be courageous to take risks, and explore different interests. Seun Ogidan and Esther Olatubosun gave agro-testimonials.
A panel moderated by IITA corps member Sunday Ijegwa analyzed ways to "Achieve a No Poverty and Zero Hunger SDG: The Role of African Youth." The session featured four panelists: Morufat Balogun, Tissue Culture Specialist for YIIFSWA, Yinka Fakunle, Head IT Unit, IITA, Kazeem Bolarinwa, Special Assistant on Youth and Sports to the Oyo State Governor, and Adetomiwa Ogunsuwa, Managing Director for A-tops consultancy.
IITA Director General Nteranya Sanginga advised the youth to emulate the experience of their colleagues in the Start Them Early Program (STEP) and IYA, highlighting the need to be courageous and innovative. He also challenged the youth to be the change that Africa is looking for.
IITA corps member Emmanuel Ogunbase concluded the session with a vote of thanks, appreciating the participants, panelists, and resource persons, including Hilde Koper, Kenton Dashiell, and Katherine Lopez, for their contributions to the success of the seminar.