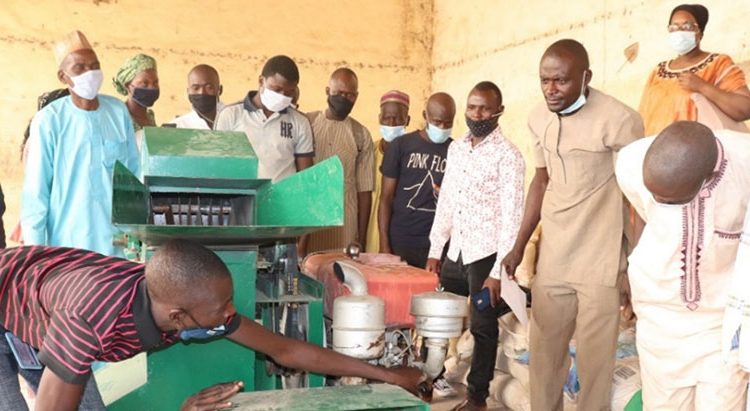 Integrated Agriculture Activity conducts peace-enabling training for crop and livestock farmers in North-East Nigeria
The USAID-funded Feed-the-Future Nigeria Integrated Agriculture Activity conducted a series of training on crop residue utilization and feed formulation for farmer and herder groups' representatives, large-scale farmers, local livestock feed processors, livestock feed sellers, nutrition liaison officers, and extension agents in Yola (Adamawa State) between 18 and 20 February and in Biu (Borno State) between 24 February and 1 March.
The training, facilitated by the Activity experts from IITA and ICRISAT, should contribute to the reduction in crop residue waste, minimize the cost of livestock production, increase productivity and income of farmers, promote a healthy and beneficial relationship between livestock farmers and crop farmers, and significantly reduce the age-long tension and clashes between the herders and farmers.
The participants were trained on methods of processing crop residues to increase the efficiency of utilization by livestock, including feeding mixture proportion for different classes of ruminants (such as pregnant, lactating, fattening, and general ruminants), economic and financial benefits of crop residue utilization and the machine's operational techniques and maintenance. Some of the ingredients for the feed mixture are stalks of millet, sorghum, maize, rice straw, cowpea hay, cotton seed, groundnut haulm, maize chaff, and others. The training also featured "Salt Leak" production, a supplement mixture that aims to balance the nutrient deficiency in the feed mixture and boost livestock's physiological development.
One hundred and sixty-six (166) participants comprising 129 males and 37 females (33 representatives of farmers groups, 67 Livestock farmers/feed sellers, 23 Livestock feed processors, 5 Nutrition Liaison Officers, 32 Extension Agents, 5 Supervisors, and 1 Desk Officer) from Hong, Song and Gombi LGAs (of Adamawa state), and Biu, Shani, Bayo, Kwaya Kusar and Hawul LGAs (of Borno state) attended the training.
The process is already underway to link the trained participants and other interested private sector entrepreneurs to the fabricators of the chopper/crusher. The trained participants have been provided with the option to purchase the equipment either individually or as groups. The fabricators have given their commitment to train them on the use and maintenance of the equipment. The crusher, a technology designed by an IITA partner, is being fabricated by a local business in Nigeria and can crush 4 tons of crop residue per day.
In the Activity area, crushed/chopped crop residues are very much in demand. It serves as an alternate source of feed for herder's livestock. Smallholder farmers also use this as a source of food for their livestock and small ruminants. The utilization of crop residues and their sales provide an additional income source for the smallholder farmers and private sector entrepreneurs engaged in residue trading. Depending on the crop, a smallholder farmer can collect between 2 to 7 tons of residue from a hectare of land.  At the current market price, a farmer can earn between N40,000 and N85,000 per ton from selling crop residue. Likewise, traders also make at least a 30% margin from trading these residues. The Activity has already seen strong and healthy partnerships between livestock and crop farmers, potentially eliminating the age-long tension and clashes between the herders and farmers. This contributes to the enhanced social cohesion in the communities as well as building on the social capital.
In addition, on 3 February, Activity Subgrantee partner's ICRISAT Nigeria CD was featured on a 30-minute Radio and 15-minute Television program at Gotel Communications, Yola tagged "ABGRIBIZ" with ICRISAT's Country Director, Dr Hakeem Ajeigbe. The use of crop residue as livestock feed and how it could help to curb the increased clashes between farmers and herders if properly utilized was the key theme of the discussion. The discussion also featured the nutritional benefits of sorghum and millet for animals.