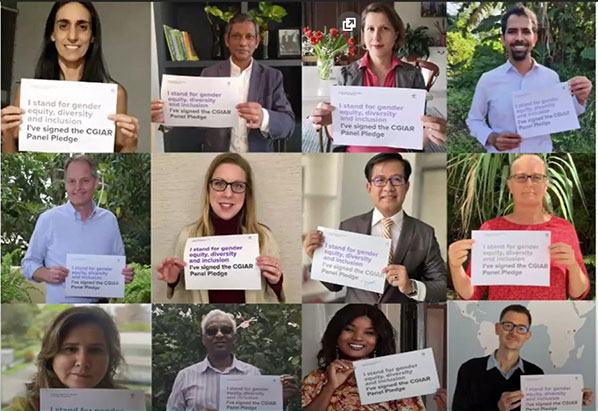 CGIAR promotes enabling environment that empowers women scientists
Women scientists represent 29% of CGIAR's workforce. These scientists, including women researchers from IITA, play an indispensable role at the forefront of CGIAR's mission to deliver science and innovation that advance the transformation of food, land, and water systems in a climate crisis.
Despite the significant role women play in powering innovation, they still require more support to thrive. Hence, the Women in Research and Science (WIRES), a new employee-led resource group (ERG), was created to promote an enabling environment that empowers women scientists across CGIAR.
As part of the International Women's Day (IWD) celebration, WIRES launched the CGIAR's Gender Diversity and Inclusion Panel Pledge on 8 March. The event, which featured a lively discussion with gender experts, was held to help women and men learn how to commit to the panel pledge and contribute to building a truly inclusive workplace.
Moderating the session, Fiona Bourdin-Farrel, Senior Advisor on Gender Diversity and Inclusion, CGIAR, assured participants of how the Panel Pledge enhances women's representation and ensures that diverse voices are heard. She also mentioned that the event would include a segment that highlights people who are already supporting the CGIAR Panel Pledge in honor of IWD.
In his opening speech, Elwyn Grainger-Jones, Managing Director, Institutional Strategy and Systems, CGIAR, stated that the panel pledge launch is one of many ways CGIAR is celebrating the IWD. Grainger-Jones described the IWD as a day to reflect on progress made, celebrate women's and girls' achievements, and raise awareness of the enormous work that is left to be done, particularly in science. "In CGIAR, women have been leaders in science for decades, but they are still underrepresented in our domain in science, technology, engineering, and mathematics globally. Women still account for less than 30% of world scientists in research; hence, we need to put in huge efforts both globally and within CGIAR to achieve global parity," he said.
Officiating the launch, Bourdin-Farrel gave an overview of the panel pledge focusing on the purpose and contribution to an inclusive workplace.  She explained that the panel pledge sends a signal that gender, diversity, and inclusion are part of CGIAR values. Hence, she encouraged all CGIAR staff, especially Senior Managers, to participate in the Pledge. "Guidelines for implementing the pledge are available on the new panel pledge website," she stated. Five other colleagues from across CGIAR also shared their thoughts on the importance of the Pledge.
Keynote speaker Caitlin Kraft-Buchman, CEO of Women at the Table and Co-founder of International Gender Champions, explained why the Pledge is important. She shared her experiences about events where the panelists were all men, emphasizing an event in 2015 and how these experiences made her put in more effort to promote gender equality, especially in pushing for gender-balanced panels at events.
Grainger-Jones stressed that the interest of CGIAR is not to change the operational structure but to improve the working culture continually and that the panel pledge launch is one of the ways CGIAR is improving the culture. Bourdin-Farrel appreciated the speakers and participants for their contribution to making the event a success. "We are glad you were able to join us for another step on our GDI journey. We look forward to seeing you join us on other GDI events," she said.
WIRES is a vibrant new voluntary ERG  dedicated to championing and supporting women. The group is open to all employees who support WIRES' mission to increase the visibility of women research and science professionals by ensuring their voices are heard and contributions recognized. WIRES is supported by the Gender, Diversity and Inclusion (GDI) Function.
Visit https://www.cgiar.org/how-we-work/accountability/gdi-panel-pledge/ to sign up for the CGIAR GDI Panel Pledge.