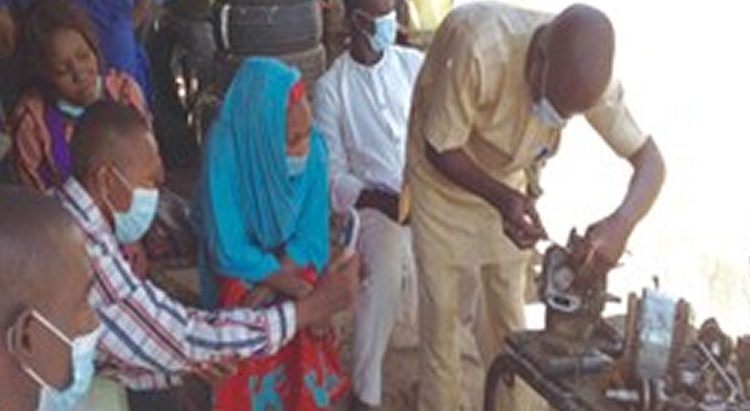 Women and youth trained on farm mechanization in northeast Nigeria
As part of efforts to empower women and youth, the USAID-funded Feed-the-Future Nigeria Integrated Agriculture Activity organized training sessions for 252 beneficiaries in four Local Government Areas in the northeastern states of Adamawa and Borno. The three-week training, which took place in February, focused on farm machinery operations, mechanics, and fabrication.
These capacity-building and skill-acquisition sessions are part of a broader economic recovery drive in northeast Nigeria in the wake of the devastation caused by the region's ongoing insurgency. Women and youth can improve their income and source of livelihood, create self-reliance opportunities through gainful employment, and benefit from participating in agriculture using labor-saving farm equipment.
The training in Fufore and Yola South LGAs in Adamawa State and Kwayar Kusar and Hawul LGAs in Borno State was a blend of theory and practice. The participants learned the fundamentals of fabrication, operation, maintenance of farm machinery, and business management. The sessions were facilitated by private agricultural service providers. Those who completed the training can take up machine fabrication as an enterprise or become commercial operators or repairers of these machines.
At the end of the farm mechanization training, 60 youth (35 male and 25 female) contributed ₦185,000 (about $430) to fabricate two grinding machines and one threshing machine. Also, 59 youth and women (25 female and 34 male) contributed ₦150,000 (about $360) to manufacture two threshing machines, all in Hawul LGA. These machines will improve economic development for the youth and women groups who have joint ownership of the enterprises.
The Integrated Agriculture Activity supports vulnerable populations disenfranchised by conflict in the region and seeks to reengage them in basic farming activities. The 252 participants (137 male and 115 female) committed to ensuring that the knowledge acquired will be put to judicious use to improve quality of life and increase income.