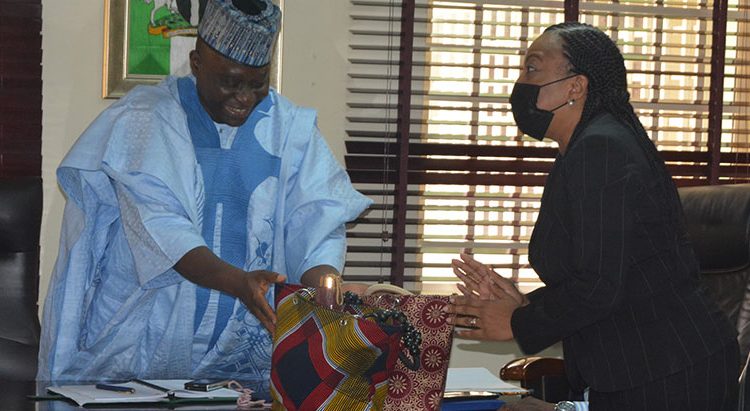 Nigeria's broadcast body assures IITA of continued support
The Acting Director-General Armstrong Idachaba of Nigeria's National Broadcasting Commission (NBC) has assured IITA of continued support and collaboration. He said this as he received a delegation from the Institute led by IITA Abuja Station Head, Gbassey Tarawali.
In his welcome address, the Acting DG acknowledged that IITA is a well-funded and organized international institute whose operations will flourish further with the approval of a radio license to transmit information to a broader audience. NBC senior officials including Directors were also present at the event.
IITA West Africa Head of Administration and Deputy Chair of the IITA Radio Committee, Sylvia Oyinlola, appreciated the Acting DG for receiving the IITA team. She informed him that the radio studio, staff, and radio programs are all standing by awaiting the approval of the radio license from NBC. "This courtesy visit to NBC Management is to ensure that we have done everything within our capacity as a committee delegated to handle the radio license process on behalf of IITA," she said.
Other members of the IITA delegation who accompanied Tarawali and Oyinlola included IITA Radio Committee members, Ifaturoti Idowu and Ezinne Ibe, and Marketing and Visitor's Services Officer Terngu Abur.