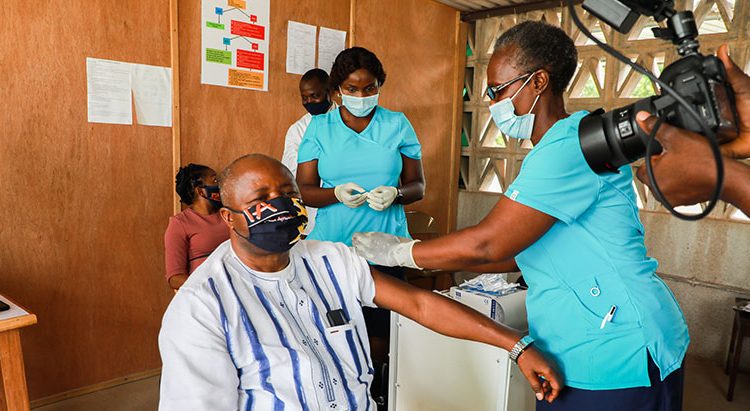 COVID-19: Leading the fight from the front lines
IITA Director General Nteranya Sanginga and other frontline staff receive the vaccine as the vaccination rollout begins at the Institute. The vaccination at the IITA Clinic is part of the first wave of the vaccination program in the country after Nigeria has taken delivery of the first batch of AstraZeneca COVID-19 vaccines.
IITA has requested local government authorities for staff and dependents to be included in the vaccination program. IITA's Medical Unit has been participating in COVID-19 vaccination training with the nearest (Akinyele) local government (Moniya) primary health center. The AstraZeneca vaccine has been allocated for frontline staff and was administered at the Clinic, beginning on 29 March. Frontliners included medical, security, and hospitality staff, media, drivers, and school teachers.
Watch DG Sanginga speaking about the efforts to keep staff safe: https://www.youtube.com/watch?v=PeSFxWJkBmc.
An intense awareness drive has also been ongoing with face masks and personal hygiene campaigns to stop the coronavirus spread. In this other video, IITA West Africa Hub Director Michael Abberton speaks about adopting safeguards and best practices to curb the pandemic: https://www.youtube.com/watch?v=hzFRM-J3j04.