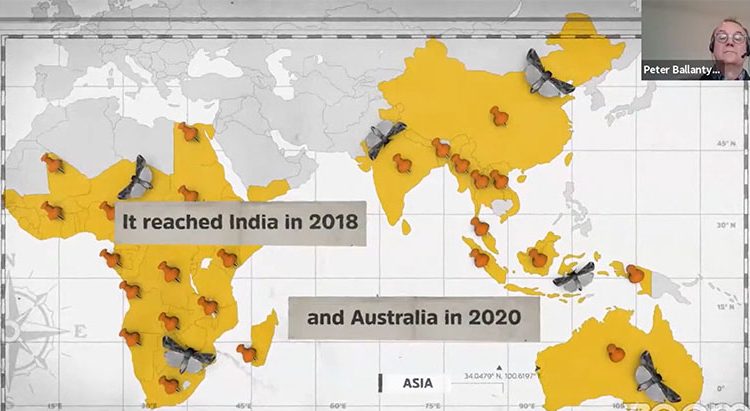 IYPH integrated pest and disease management
The third of four webinars earmarked by CGIAR to celebrate the International Year of Plant Health was held on 10 March 2021. The webinar focused on "Integrated Pest and Disease Management" and examined the different collaborative approaches employed in the sustainable management of transboundary pests and crop diseases, looking at how they impact our food systems, gender balance, and social inclusions.
Robert Bertram, Chief Scientist, Bureau for Resilience and Food Security, USAID, who facilitated the webinar, said that in the last 10-11 years of Feed the Future, the world has dealt with Maize lethal necrosis, Fusarium wilt of tropical race4 banana, Fall armyworm, the locust outbreak, and Wheat blast in Asia and Bangladesh. He pointed out that we live in a shrinking world and the interactions of trade, travel, climate change, and climate variability drive uncertainty and vulnerability for farmers worldwide. Countries and global partners like CGIAR need to work together to seek better ways to prioritize the damage caused by these pests and diseases and proffer innovative solutions.
Four panelists reflected on the one-health approach in protecting plants and people. Dealing with plant pests and diseases from a one-health perspective involves ensuring healthy plants, environments, animals, and ultimately, humans. Dr Prasanna Boddupalli, Director of the CIMMYT Global Maize Program, speaking on the successes and challenges of tackling transboundary diseases and insect pests of crop plants, said, "Over 140 wheat varieties with improved agronomic traits, disease resistance, and climate resilience have been deployed in 11 'at-risk' countries over the past 10 years."
On the CGIAR level, there has been the proactive deployment of disease-resistant varieties. CIP (International Potato Center) partners across different continents have identified, cloned, and developed major resistance genes for main viruses affecting potato and sweet potato. It has also seen advanced sensitive and field-deployable diagnostics developed in managing various other pests and diseases. Solutions to combat the Fall armyworm, which affects maize in Africa and Asia, include biopesticides and native genetic-resistant varieties.
However, inadequate integration and lack of wide-scale deployment still exist in fighting these pests and diseases. Several challenges remain, including the spread of new and more aggressive pathogens and pests emerging and spreading globally. Integrating People's Mindsets (IPM) as an approach to globally and locally combat plant pests and diseases remains a significant challenge.
The webinar was interactive, with participants contributing what they consider the greatest challenges and successes they have encountered in implementing integrated pest and disease management initiatives. Both participants and presenters agree that a global surveillance system is needed to manage and control crop pests and diseases. And there is a need to strengthen partners' capacities, especially in low-income countries with targeted and passive surveillance, risk assessment, diagnostics, data sharing, and communication at local and global levels.