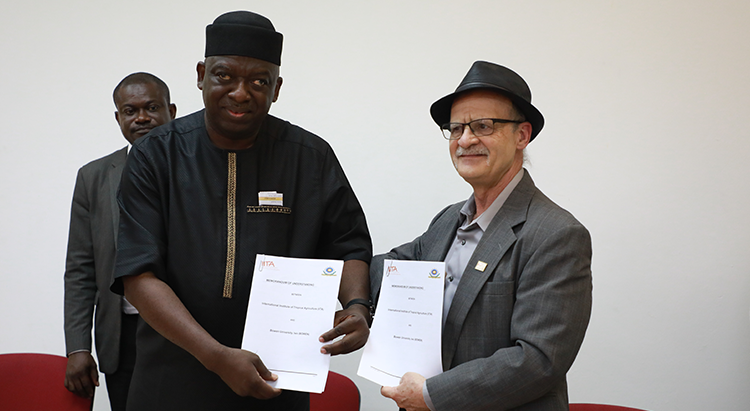 BOWEN strengthens partnership with IITA to promote student and youth entrepreneurship
IITA continually partners with government and private organizations, including universities, to advance agricultural activities and promote digitalization in Africa. BOWEN University has been a partner of IITA for many years, especially agricultural and capacity development programs.
On a recent visit, Professor Joshua Ogunwole, Vice Chancellor, BOWEN University, accompanied by the University's principal officers, sought to strengthen existing partnerships and identify new areas of collaboration with the Institute.
The Vice Chancellor and his team were welcomed by IITA Management staff. In his welcome remarks, IITA Director General Nteranya Sanginga stated that IITA is happy to collaborate with BOWEN, being a top-notch university. "We want a win-win situation for BOWEN and IITA," he said.
IITA Deputy Director General, Partnerships for Delivery, Kenton Dashiell, reaffirmed the DG's words. He said BOWEN prepares students to be entrepreneurial and innovative, thus, making it more than the regular traditional university that focuses on education alone.
Zaina Sore, Head of Capacity Development Office (CDO), shared CDO's activities and IITA's longstanding history of partnering with universities. She highlighted areas of partnership available to universities such as internships, Industrial Training (IT), National Youth Service Corps (NYSC), volunteering, graduate fellowships, training courses, and sabbaticals. She explained how lecturers and students could benefit from these programs.
Ogunwole explained that the present administration in BOWEN came with a restructuring agenda and are eager to start the work. He emphasized how IITA has made a tremendous impact in Africa, making it an institute with whom others want to partner.
He identified new areas of collaboration, including capacity development for students and staff, research, digitizing the library, and youth empowerment on entrepreneurship and soft skills development. "We do not just give degrees; we want our students to be entrepreneurs. We also want capacity building for Baptist youth throughout Nigeria so that they can be profitably engaged," he said.
Kayode Awobajo, Head of IITA's Project Development and Administration Unit (PDAU), explained the partnership agreements IITA has with BOWEN. The institutions have signed various memoranda of understanding (MoU), including one earlier this year. "This is an opportunity to promote and strengthen what both institutions already have," he said.
Responding to the suggested areas of partnership, Dashiell noted that IITA and BOWEN have similar values and goals. He pointed out that this partnership would benefit both institutions. "I am excited about the areas of partnership, and everyone has a role in moving the partnership forward, not only the DG and Vice Chancellor," he said.
The team went on a tour of the Institute and later signed an MoU to seal the partnership.