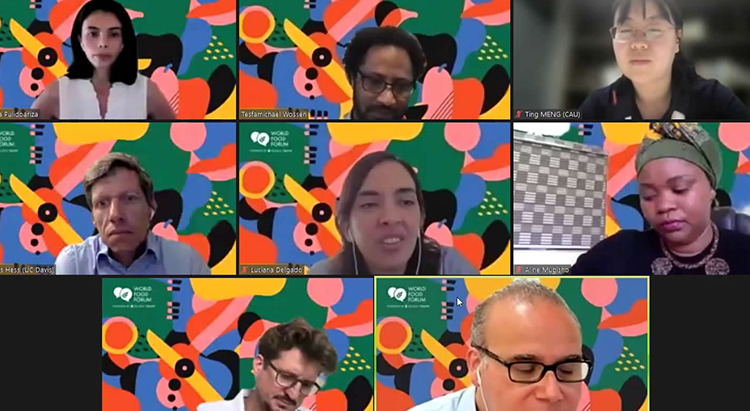 Youth to contribute innovative solutions to world hunger
The World Food Forum has called for the massive involvement of youth in developing sustainable solutions to the world's food and hunger problems. The call came during the recent Youth Transformative Challenge webinar.
FAO's Chief Economist and Scientist, Máximo Torero Cullen, told the global audience that youth have a critical role in bringing "out-of-the-box" ideas to create lasting solutions to our food problems. Cullen said, ''The World Food Forum is an opportunity to harness the passion of youth, through science, to transform our agri-food systems sustainably. Youth question things differently than the older generation; hence we need this heterogeneity of lenses to work together.''
The agri-food system is very complex, interrelated with health, economic development, disease prevention, research, food sources, consumption, and distribution. Youth innovative contributions, coupled with the expertise of older scientists and researchers, will be geared towards achieving zero hunger, the second Sustainable Development Goal (SDG 2).
Innovative Youth in Agriculture Project (I-Youth) Executive Manager Aline Mugisho and Agricultural Economist Tesfamichael Wossen from IITA and Luciana Delgado from IFPRI, all CGIAR scientists,  were among the panelists. Speaking from Nigeria, Mugisho said her role is to ensure that youth play their part in feeding the continent in a sustainable and waste-free way. She noted that youth are primarily on the consumer side and not the producer side, so they hardly get a choice to consider agriculture as a research opportunity due to the limited information disseminated to them.
Mugisho added that IITA has been making sure that youth get the required information they need in terms of research, media, market, value-addition, outreach, and so on to make them youth agripreneurs. And even engage them early from secondary schools in the Start Them Early Program, STEP.
Wossen said his research explores how climate-smart innovations contribute to the transformation of agri-food systems. He is currently conducting research in the food security and poverty areas of technological innovations generated by the CGIAR, which are directly related to the World Food Forum's 4Bs: Better Life, Better Production, Better Environment and, Better Nutrition. He is also researching scaling strategies for nutrition and food safety innovations such as Aflasafe, a biocontrol product to manage aflatoxin contamination.
Speakers from the A5 alliance also introduced the research areas they were focusing on to solve hunger issues and improve the Sustainable Development Goals.
Cullen said if he could go back in time as a young researcher, ''The governance failure at the distribution and coordination of policies related to food solutions is what I would love to work on and change.''
He challenged all—young, old, and middle-aged, to harness the opportunity provided by COVID-19 to take up conversations that will inspire many to work on solutions to the 4Bs.