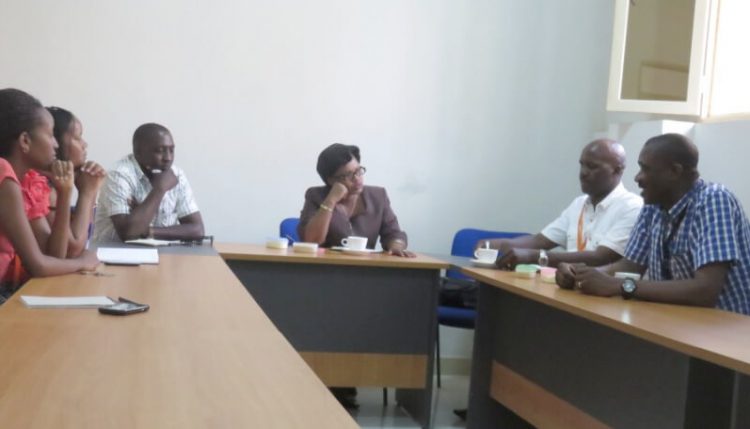 Former Burundi minister lauds IITA's significant support
To mark the end of her term in office, Hon. Kayitesi Odette, the immediate past Minister of Agriculture in Burundi visited IITA, and thanked the Institute and staff for their support during her tenure. She also urged the Institute to extend the same gesture to the new minister.
During the commendation visit on 25 September, Hon. Kayitesi noted that IITA's significant contribution to Burundi's banana seed systems, cassava, integrated pest and natural resource management, and capacity development for staff, students, partners, and especially farmers, has made her proud.
According to her, these contributions have transformed the status quo of farmers' knowledge and practice. "As an example," she said "the banana subsector has become more vibrant and competitive; farmers now use tissue culture materials as part of field rehabilitation initiatives to control Banana Xanthomonas wilt (BXW), thereby stimulating private tissue culture labs to produce and provide more planting materials. This was certainly not the case in the past."
Banana is an important source of economic and social capital for the farming population in Burundi with an annual production estimated at 1.85 million tons on average. It is cultivated by more than 90% of the farming households in nearly all agroecological zones and it has high agronomic potential and multi-purpose uses.
With the emergence of BXW, banana production dropped significantly, rendering farmers without alternative income sources to cater for school fees and health care, especially affecting the food security of smallholders who rely on banana for their livelihoods.
Hon. Kayitesi therefore commended IITA and partners for enhancing farmers' capacity and introducing innovative practices to sustainably manage BXW.
On behalf of IITA and staff, Emmanuel Njukwe, IITA Burundi country representative, received Hon. Kayitesi during her visit and pledged IITA's continual support to the Burundi government. He also reiterated the Institute's commitment to work closely with farmers to combat major diseases and in achieving food security.