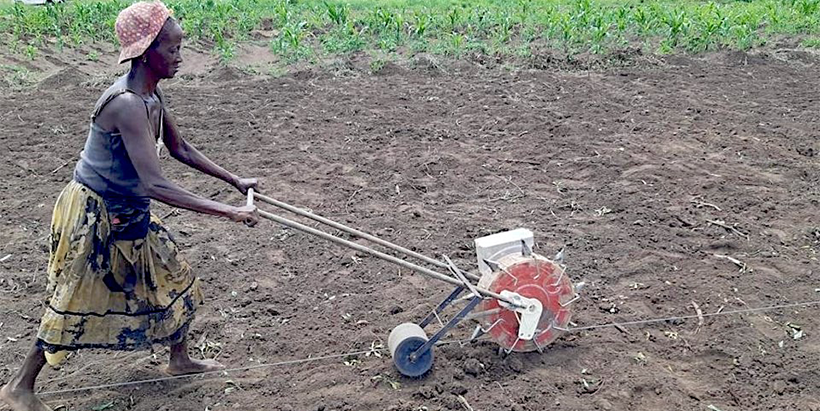 Mechanical legume planter reduces drudgery for female farmers in Mozambique
Mechanization has been recognized as an essential factor in agriculture development efforts to save on labor and time in many farming operations for smallholder farmers. In Mozambique, IITA conducted a study on a hand push manual seeder (HPMS), also known as the Legume Hand Push Manual Planter (LHPMP), to be used by farmers, particularly female farmers, in the establishment of common legume crops, including common beans, cowpea, groundnut, and soybean fields.
The introduction of the HPMS was a response to the competing demands of female farmers' time during the planting season as they juggle fieldwork and caring for the family. As a result, women do not establish enough acreage of legumes and other crops. The lack of time also leads farmers to practice traditional farming of randomly planting seeds, leading to low or high unit spacing and dumping many seeds in a hole. Also, random planting causes difficulties in weeding, spraying, and harvesting, leading to poor yield.
The study noted that both male and female farmers were willing to use HPLS due to ease of use, simplicity, and versatility in planting a wide range of legumes and cereals. Other benefits of the equipment are that it can operate in various soil textures and weathers, is light, and consumes no fuel.
"The planter is attractive and easy to use and adapted to the planting of different seeds. The single-row, multi-crop planter is maintenance-free, except for two bearings that require regular lubrication to reduce the friction of the rotating drum. The farmers welcomed it eagerly," says Canon Engoke, a Seed Systems Agronomist at IITA Mozambique and one of the researchers working on popularizing the planter.
The planter has proven its potential to save time and improve yield when following recommended line spacing and good agronomic practices. The study noted that the farmers use half the time and reduced costs when using HPLS for both cowpea and soybean compared to the hand hoe and rope line planting. As more women are involved in cowpea farming for food security, the equipment can save planting time, increase yields, and increase the number of female farmers in soybean production.
The amount of time saved with HPLS could be invested to increase production area for the same legume or diversify to others and complete demanding household chores without affecting crop production.
With all the benefits demonstrated by the planter, some farmers, especially the youth, have expressed an interest in purchasing several of them to offer planting services in communities at a more competitive fee than using the hoe in line spacing. This will create employment among female and youth farmers.
IITA has engaged some artisans to fabricate the HPLS in Mozambique to make it widely available. Innovations are under way to modify it into planting and marking the next line in one run, eliminating the need to use a rope and saving even more on costs and planting time.
IITA conducted theoretical and practical training sessions for farmers on the use of HPLS machines in demonstration cowpea and soybean fields in the Nampula and Zambezia provinces of Mozambique.
The research was supported by USAID Feed the Future Mozambique improved seeds for better Agriculture (SEMEAR) and Grain Legumes and Dryland Cereals (GLDC).