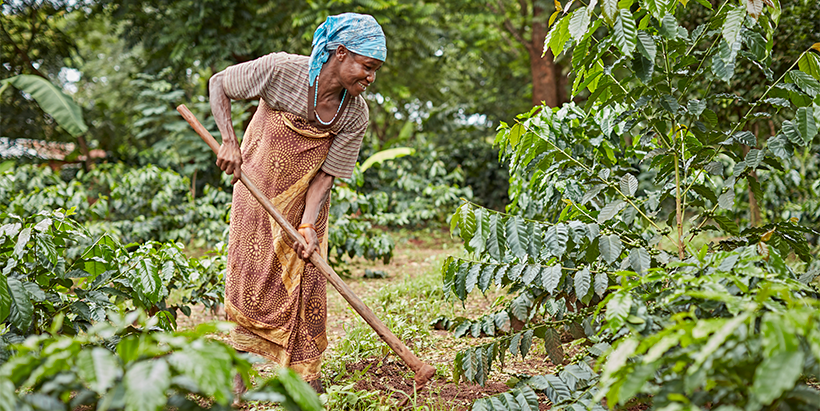 New project to improve over 5,000 smallholder coffee farmers' livelihoods in the Mount Elgon Region
In Uganda, the GIZ Employment and Skills for Development in Africa (E4D) program partnered with IITA-Uganda and Olam Food Ingredients (OFI) to improve the livelihoods of 5,000 coffee farmers in the Mount Elgon region of the country. Instead of blanket support provided through traditional service delivery models, the partnership will co-design a suite of scientifically tested living income strategies tailored to the diverse needs of coffee farmers in Uganda.
The project, which started in February 2021 and will continue for two and a half years, aims to improve farmers' livelihoods by enabling them to optimize their investment in coffee, earn more from other on-farm activities, and thus reduce the living income gap by 20 percent.
IITA-Uganda Climate-Smart Agriculture Team Lead Sarah Margiotta said, "IITA researchers will build on existing experience and data from Olam, IITA, GIZ, the LI Community of Practice (LI COP), and other publicly available information to determine specific farmer typologies within a sample set of 2,000 farming households in the OFI farmer network."
In line with past research showing many variances between farmers, the project will conduct a farmer segmentation exercise to identify different clusters of farmers with similar characteristics. "By better understanding specific farmer characteristics, the private sector can more effectively target extension service delivery models," Margiotta added.
The project implementers will identify, test, assess, measure, and apply the most efficient living income strategies for different farmer segments to reduce the living income gap and enable them to afford a decent standard of living for all members of their households.
"As the backbone of Uganda's economy, the agriculture sector is critical to the country's economic development, and this growth will be realized when smallholders increase their yields and incomes. By implementing this project, E4D contributes to the Ugandan Government's target to increase coffee production from 4.6 million bags a year to 20 million bags a year by 2025," said Donald Agaba, E4D Team Lead.
According to Yves-Pascal Suter, Senior Strategist, OFI Corporate Responsibility & Sustainability, the project will achieve this by considering the very diverse realities of farming households to provide tailored and specific advice and services. Working on the ground with the coffee farmers will illustrate the importance of looking at the farm as a whole, showcase the best pathways to improve the livelihoods of these families. It will also show how to exploit the potential synergies between crops and livestock and highlight the different existing resources and social structures.
"With OFI as a partner, the project will be looking at all this through an economic lens in terms of return-on-investment for the farmers. Crucially, this innovative project is also scalable and should help guide and inform further actions in the region, as well as globally," Suter concluded.