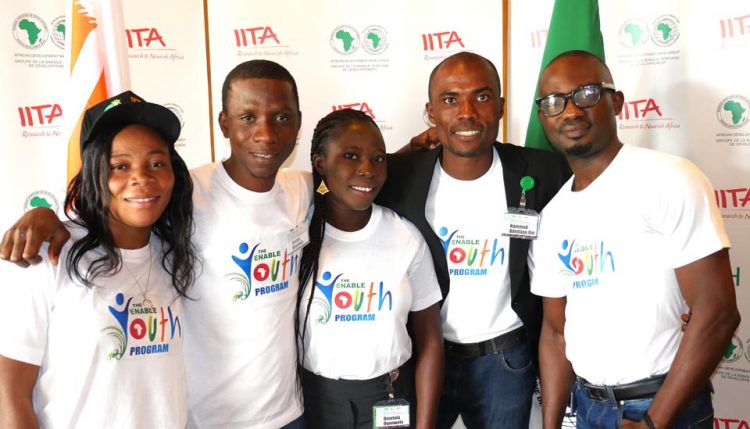 3
Nigerian Government approves the ENABLE Youth Program
The Pan-African program, tagged ENABLE Youth, designed to actively engage and create gainful employment and wealth for African youth along the agricultural value chains, has been approved by the Nigerian government.
The program concept note, which has now been approved after tough negotiations among concerned stakeholders, was initiated in 2014 during the Youth in Agribusiness Development Initiative (YADI) conference which took place in IITA, Ibadan.
The program, which is based on the IITA Youth Agripreneurs (IYA) model, is funded by the African Development Bank to give African youth the opportunity of tapping into the vast resources in agriculture.
Building on the experience of IYA, 31 African countries including Nigeria indicated an interest in outscaling the IYA model and so far, the program has been approved in DR Congo, Nigeria, Sudan, and Cameroon.
Considering the rate of unemployment in Nigeria, the ENABLE Youth Nigeria program will bridge the gap by equipping youth with various skills, values, attitudes, and orientation that will impact on their lives, the lives of others, and the society in general. The project is expected to provide decent employment by making agriculture attractive to the youth. It will also influence institutional changes in terms of access to finance particularly for youth.
The program, which will be implemented in the 36 states including the Federal Capital Territory for 5 years, is targeting young, unemployed Nigerian graduates from any field of study who have finished their National Youth Service Corps (NYSC) program (Greenfield) and graduate youth who are already successfully engaged in agribusiness, but have no access to commercial loans to grow their businesses (Brownfields). These youth will be provided loans to start up identified agribusiness enterprises in any value chain.
The program is expected to create 1,000 jobs per state.
IITA through its youth in agribusiness program will be playing a major role in this continental program.