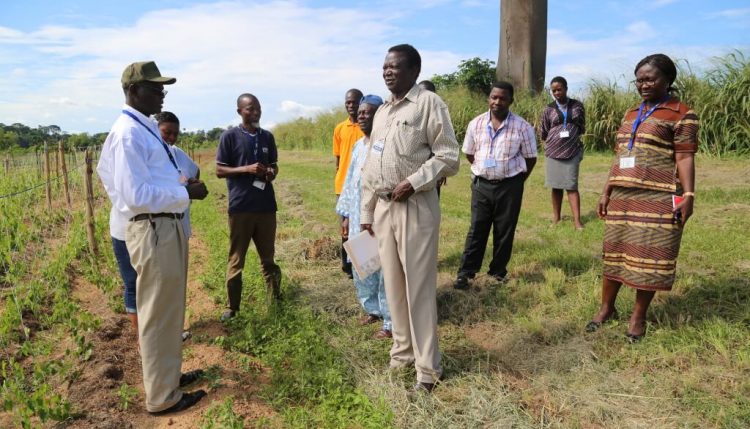 YIIFSWA has two new Technical Advisory Committee members in Nigeria
The Yam Improvement for Income and Food Security in West Africa (YIIFSWA) project welcomed two new members: Prof E.A. Salako from the University of Abuja and Chief Tola Adepomola, Chair of the Root and Tuber Crops Subcommittee of the All Farmers Association of Nigeria, who was represented by Rev. J.O. Adeleye to its Technical Advisory Committee (TAC) during a visit to IITA Ibadan on 8 and 9 October.
They met with the YIIFSWA project team based in IITA-HQ; their visit included a briefing session on the project and an excursion on project activities within Ibadan. The new TAC members were accompanied by the YIIFSWA Management Team composed of Project Leader Norbert Maroya, Seed System Specialist, Beatrice Aighewi, the Country Manager for Nigeria John Ikeorgu, Monitoring and Evaluation Specialist Djana Mignouna, Communication Specialist Oiwoja Odihi, Data Analyst Mikail Gbadegesin, Project Administration Assistant Emmanuel Paul, Seed Production Field Officer Folake Erinfolami, and M&E Field Officer Bridget Akinribido.
The new TAC members praised the team for the project's work, in particular the novel technologies for high ratio propagation for seed yam production and the diagnostic tools for virus indexing, quality control, and certification of seed yam production. Prof Salako said: "…From what I have seen (at Ibadan) the Institute is well endowed with capable staff and infrastructure, and commendation should be made to the Institute".
The two new members were invited to the TAC in response to the recommendation from the 4th TAC meeting to increase Nigeria's representatives.
Every year TAC members meet after the annual project progress review and planning meeting to evaluate the achievements towards meeting the goal of increasing yam productivity by 40% for 200,000 smallholder farmers in Ghana and Nigeria, and deliver key research products that will contribute to improving yam productivity and the livelihoods of yam farmers.