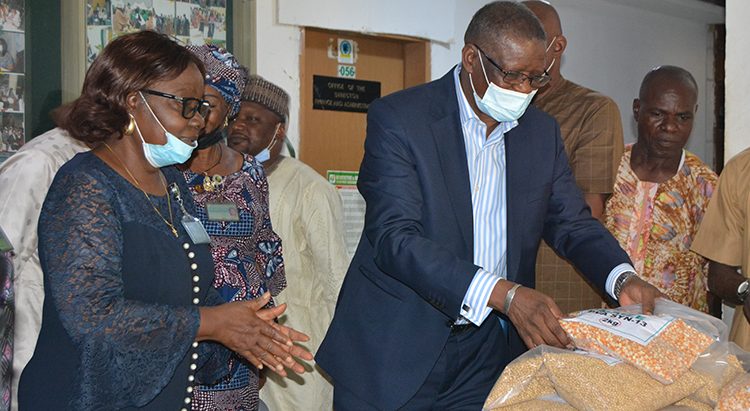 IITA donates elite planting materials to boost FCT farmers' productivity
Farmers in Nigeria's capital, Abuja, received a boost as the IITA-Abuja team donated 330 kg of improved, disease- and drought-tolerant seedlings to the Federal Capital Territory Authority (FCTA).
The Head IITA-Abuja Station, Gbassey Tarawali, presented elite planting materials comprising maize, cowpea, and soybean to the FCTA Management at the ministry's head office in Abuja.
In his address to the Management of FCTA at the event, Tarawali appreciated the Minister, who had recently visited IITA-Abuja, Station in Kubwa, and despite competing demands on resources, he had provided two critical assets to the Station.
Tarawali said, "In appreciation of FCTA's continued support, we are donating 330 kg of elite planting materials…to be multiplied and distributed to farmers in FCT."
Receiving the seeds, the Director of Agricultural Services, Dr. Nkem Akanegbu, thanked IITA for the kind gesture. She reiterated that IITA and FCTA have an agreement, which serves as a common ground for achieving results. "The seeds donated by IITA will be multiplied and distributed to our farmers," she said.
FCTA hosts the IITA Abuja Station, located on about 62 hectares of land. In 1991, IITA and FCTA signed an agreement for the takeover of the farms' operation. The agreement signed years ago is currently under review.