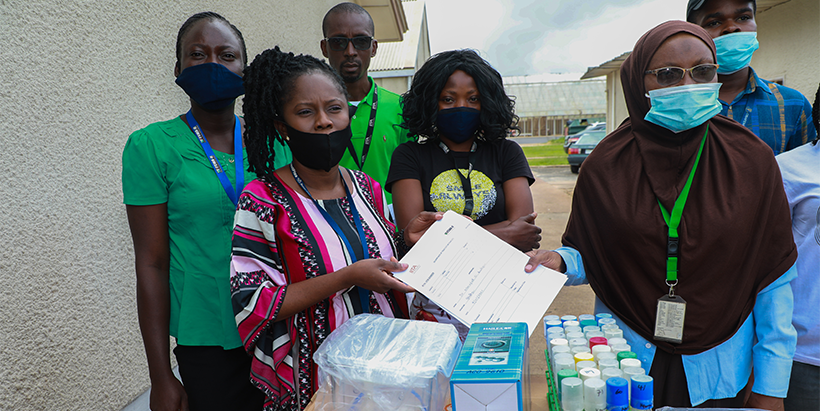 YIIFSWA II hands over project outputs to GoSeed for post-project sustainability
The Yam Improvement for Income and Food Security in West Africa Phase II (YIIFSWA II) project has handed over some project outputs to IITA GoSeed to ensure the post-project sustainability of the technologies. In a short ceremony on 14 July, the project turned over 42 plant form temporary immersion bioreactors (TIS) and 40 plantlets, as a part of the exit strategy, with YIIFSWA II nearing its December 2021 end.
YIIFSWA II Project Tissue Culture Specialist Morufat Balogun handed over the technologies on behalf of the project to GoSeed's Assistant Cassava Seed System Specialist Mercy Diebiru-Ojo.
The materials are expected to enable GoSeed to build its production capacity. GoSeed staff have been in training for three months and will continue till December, so they can carry on the production of clean nuclear stock of yam planting materials for years to come.
"We want all innovations that YIIFSWA has done in terms of seed, planting materials—the bioreactor system, the aeroponic system, the hydroponic system—for production of yam to be run in a sustainable way; and having the business aspect involved which GoSeed can run through," said Balogun.
The YIIFSWA II project has worked on different new technologies for producing quality seed yam materials on a research level. According to Diebiru-Ojo, handing them over to GoSeed is an opportunity to increase the scale of what they have achieved and take it to a commercial level. Commercialization will drive down the cost of quality seed of yam materials, which will be a massive advantage for GoSeed. "We need the large quantity to help us meet the huge demand out there. So the products will go a long way in pushing us forward in terms of producing quality seed, which will help our operations. So we are very grateful to the YIIFSWA II team," said Diebiru-Ojo.
The YIIFSWA project, led by Norbert Maroya, has worked for 10 years to develop a functional, commercial seed yam seed system in Nigeria and Ghana to benefit smallholder farmers through timely and affordable access to high-quality seed yam tubers of improved varieties.